Posted By RichC on May 30, 2020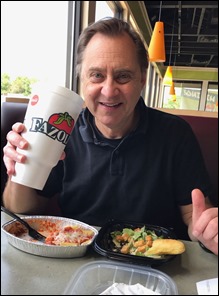 It has been a couple weeks of more states and localities re-opening. Brenda and I stopped at Fazoli's to pick up something last weekend, but instead decided to try something new .. at least since restaurants shut down.

We donned our face masks and ordered our meal sitting every other table. All was good. Then again this past Friday my buddy Jeff and I resumed our once a month (or sometimes more) eating out and staying in touch at one of our favorite local Mexican restaurants. We were surprised to see the shared basket of chips and salsa, but again the spacing was spread out. They took our name in advance, but didn't seem to bother when we walked in. All in all, it was starting to feel a little more normal. Nice!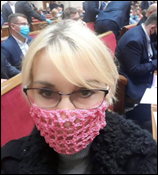 Speaking of masks, Brenda wears them everyday in the Kroger Pharmacy and recently they were offered a pretty 'wimpy" replacement for the normal paper/disposable masks (not the N95). She tried the new "cloth" mask on, but prefers the paper which took a few weeks to get comfortable wearing – I think she is ok with it now. I'm still struggling with the "masking up," and agreed the new wimpy cloth is easier to breathe through, but I'm not sure offers much in the way of filtration or protection? Of course it is all likely a false sense of protection anyway – but probably a little be better than this crochet one (photo left).