Posted By RichC on August 7, 2020
It is always concerning to use and recommended a software product for years and to hear negative news on the software from a reputable antivirus.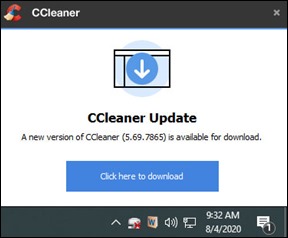 Last month, Microsoft Defender marked the "crap cleaner" known as CCleaner as PUA (Potentially Unwanted Software) likely due to the "PC cleaning software's bundling unwanted add-on and annoyance software. The risk in doing this for semi-reputable company … if they are which is likely for their free version … is that users choosing CCleaner could end up with more "junk" on their computer than they are actually cleaning off their computer.
In 2018 I stopped regularly using CCleaner to "Fix Registry Problems" due to concerns that it might "error on the side of cleaning" that will trigger errors that render Windows inoperable. LINK
After tweeting the TechRadar article, CCleaner tweeted a reply saying"Our products and our partners' products are genuine and so we are in discussions with Microsoft to resolve this issue as soon as we can."
Hm .. Windows 10 is warning users not to install @CCleaner – @techradar https://t.co/FGETn48dmS

— Rich Corbett (@RichC) July 31, 2020