Posted By RichC on February 14, 2021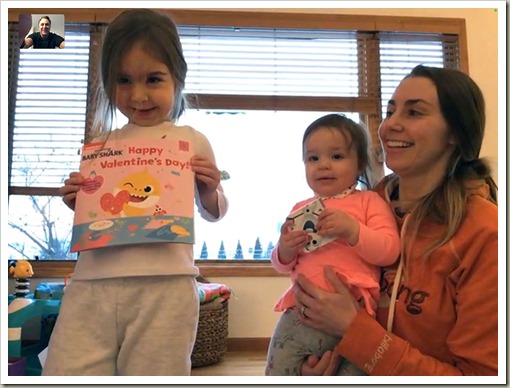 Brenda packaged up a nice box of fun gifts for our granddaughters and they connected by FaceTime with high energy and happy faces – it was fun. Both Annalyn and Ellerie are camera "hams" and seem to enjoy what to them is a normal communication medium. I'm certainly enjoying the technology connection as it is so much better than the cards, letters and long distance phone calls our kids had with their grandparents. Even with the COVID19 restrictions, we are fortunate to still be able to see our growing munchkins fairly often in person .. but are looking forward to things opening up.
As for opening up, both Katelyn and Drew have had second Coronavirus vaccinations and Megan and Brenda their first (scheduled for their second this month). I was told that the window in Ohio for me opens in a week or so – I'll check with my vaccination administering queen (Brenda) to be sure; she worked a clinic last week where they administered 2000 shot to Ohio teachers.
Since it is Valentines Day, I'll use that as an excuse to archive a couple granddaughter photos from last week (thanks for sending Katelyn!)
And not to be left out, Taylor dropped off flowers and a card for his mom … and it made Brenda very happy. (photo below)