Posted By RichC on August 28, 2021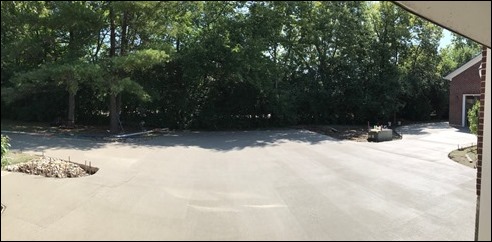 Friday was Day One, of what is the longest day of the planned two day driveway pour (Day 2 on Monday). The crew was at the house before 5:30AM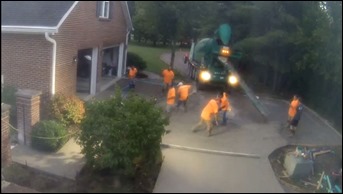 with spot lights, last minute prep and ready for the first truck of concrete which was scheduled to arrive at 6AM – was here at 6:15.
The Canary Cam picked up the action at dawn and by 10AM the three full trucks poured their loads in front of both garages. The "sweat rake" (their term) moved the heavy liquid as the boards and floats were manned by what seemed to me an experience crew. At first Brandon, the foreman, was a bit gruff, but by the time I had chatted with him a few times I realized that he was just a "matter the fact" kind of guy. He is very competent and well respected by both the company's owners/management and the crews who work for him. Since the job is yet to be finished, I hate to heap too much praise on him (HA!).
So far so good; including a few photos below for the archive.
From inside our garage looking out, meeting the front sidewalk and the new section around the poolhouse/detach garage … but before the saw cutting starts.