Posted By RichC on August 27, 2021
Now that I'm spending more time working from my home office than ever before, I'm shock that I didn't improve the comfort in my south west corner office before this year? The mini split AC unit has made a world of difference in controlling the temperature … and started me thinking about growing up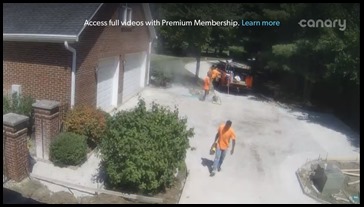 without air conditioning or for that matter not having it in our first Aurora, Ohio house or second house in Hudson … although we did add a window AC unit? Thankfully not all that long after we gave up heating with wood and coal, we replace the old oil furnace after running a "long" expensive gas line from the road with a cleaner and more efficient natural gas furnace and we included adding central air. I do still remember economizing though and running the whole house fan in the hallway ceiling in order to pull cooler evening air  – it seemed fine back in the early 1980s … although even in NE Ohio I would not want to be doing that now. Here in Cincinnati with summer daytime temperatures regularly over 90, it is hard to believe we considered installing a whole house fan when we built our house. Now we almost never open our windows and replaced the double-hung in the rear with fixed windows.
My second point when it comes to tearing out and preparing to pour our concrete driveway and having had a week of dry, hot weather is that you don't want o be opening windows. The crushed limestone base being work and compacted creates tons of dust. It is bad enough that the exterior of our house has been dusted white and all our outdoor furniture and patios are caked with limestone dust, but can't imagine sucking that inside?
Shocking thought: We have as much invested in our driveway than we spent for our first house! (if I include the blacktop section in the back from 2008)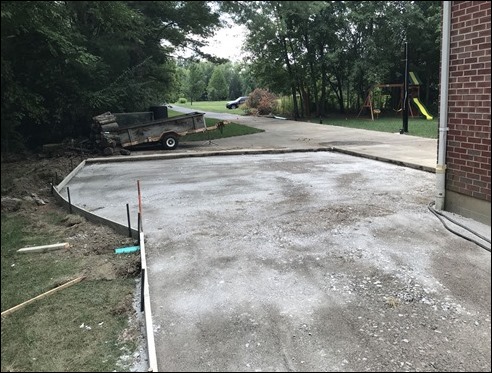 More for location photos below ..
After the guys left I added my steel 4 x 4 fence post sleeve for the gate (concrete into the pour) … and then it rained hard. We'll see how that works out??