Posted By RichC on September 5, 2021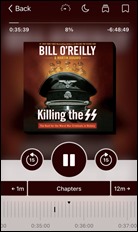 Last week I downloaded a new library app called Libby that is an Overdrive component for audiobooks for borrowing digitally from the library. I put it to use immediately after checking out the Bill O'Reilly book "Killing the SS."
So far it is very interesting considering I'm only in chapter 2, but love the storytelling style and audio read by Bill O'Reilly (miss seeing him on TV). One of the more interesting tidbits was learning about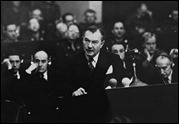 Robert H. Jackson who was appointed by President Harry Truman to be the Chief of Counsel for the prosecution of Nazi war criminals during the 1945-46 International Military Tribunal (Nuremberg Trials).
What intrigued me about Robert H. Jackson, was that grew up in Frewsburg, New York (near my wife's hometown of Jamestown, NY) and he "spent a year as a post-graduate student attending Jamestown High School." As a young lawyer, he then returned to Jamestown to practice law in 1913. Jackson became actively involved in Democratic Party politics and campaigned to get Franklin Roosevelt to the White House in 1932. He was appointed and served in a variety of Federal legal roles eventually the U.S. Attorney General in 1940-41 and to a vacant U.S. Supreme Court seat in 1941 and serving until his death in 1954. He became the 82nd Associate Justice and "was known for his eloquent writing style and championing of individual liberties."
On Saturday, October 9, 1954, Jackson suffered a myocardial infarction. At 11:45 a.m. he died at age 62. Funeral services were held in Washington's National Cathedral and later in Jamestown's St. Luke's Church. All eight of the other Supreme Court Justices traveled together to Jamestown, New York, to attend his funeral service; the last time, for security purposes, that the Supreme Court all traveled together. Other prominent guests included Thomas E. Dewey. He was interred near his boyhood home in Frewsburg, New York. His headstone reads "He kept the ancient landmarks and built the new."

The Robert H. Jackson Center, located in Robert H. Jackson's hometown of Jamestown, New York, offers guided tours to visitors who can see exhibits on Jackson's life, collections of his writings, and photos from the International Military Tribunal. An extensive collection of Jackson's personal and judicial papers is archived at the Manuscript Division of the Library of Congress and is open for research. Smaller collections are available at several other repositories.

There are statues dedicated to Robert H. Jackson outside the Robert H. Jackson Center in Jamestown, New York, as well as the Robert H. Jackson field at the Chautauqua County-Jamestown Airport. The United States District Court for the Western District of New York main courthouse, which is located in Buffalo and opened in November, 2011, is dedicated to Justice Jackson and is named the Robert H. Jackson United States Courthouse.