Posted By RichC on November 6, 2021
The Ridgid brand of cordless tools have been my choice for the home workshop for a few years now and until this past week I have had a positive experience. Earlier this year Ridgid even replaced a couple failing batteries under the LSA (Lifetime Service Agreement) …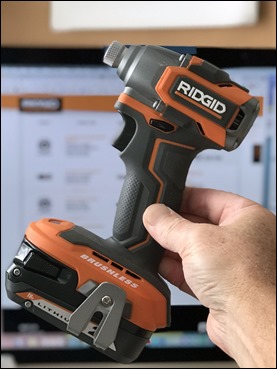 BUT now this brand of choice is a little tarnished.
One of the tools, the subcompact driver, has been a go-to lightweight tools for screws and assembly chores. For the most part, I'm a light-duty tool user and don't abuse cordless tools and take good care of the batteries. Unfortunately, I've noticed that the battery rapidly drains whenever I attach one to "this tool." All others seem fine.
So I called Ridgid customer service about it expecting they might just diagnose and replace by shipping a new one (and me shipping back the faulty one) or perhaps exchanging at the Home Depot. Nope … they required me to take it to a service center, leave the tool for them to diagnose and order parts or replace. This would require another trip back and time without the tool (no big deal for me, but a contractor/worker needing it on the job would find this frustrating). In my case, I've decided to just live with the minor issue (just remove the battery when I'm done using it for the day) or I will buy another one as an updated and improved model comes out (every few years). Realistically, they aren't really that expensive. For me, the inconvenience isn't worth driving back and forth to an inconvenient service center.
So … the Rigid tool LSA might not be exactly what it is cracked up to be. In other words, if you prefer the Milwaukee or DeWalt .. don't pick a Ridgid cordless tools just because of the Lifetime Service Agreement that includes batteries purchased paired with a kit (which was my reasoning).