Posted By RichC on July 18, 2021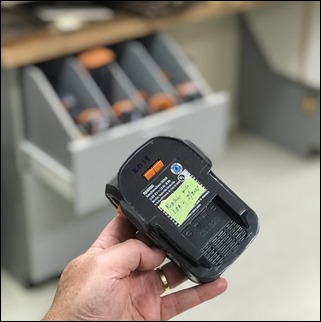 Good news and bad news. First, my relatively new (2018) smaller Ridgid tool battery will not hold a charge for very long … which has been my gripe with all previous battery powered "cordless" tools, especially those prior to Lithium Ion. Actually my complaint was not with the batteries, but the pricing of replacement batteries.
But … the batteries longevity was one of the reasons I opted to slowly replace my cordless tools with the Ridgid brand sold at Home Depot. From experience, I suspected that the well made tools (even if I'd prefer Milwaukee or DeWalt) would out last the batteries and that if I had enough batteries that were "purchased in a kit with the tools"  that  the batteries would be included in the LSA (Lifetime Service Agreement). 
WHAT IS COVERED?

LSA covers all defects and many wear parts in properly maintained tools.

The Lifetime Service Agreement covers all worn parts in properly maintained tools. This includes normal wear items such as brushes, chucks, motors, switches, gears and even cordless batteries in your qualifying RIDGID® Brand hand held and stationary power tools. These programs also cover replacement rings, driver blades and bumpers on RIDGID® Brand pneumatic tools.
So last week I called the customer service battery replacement phone number and after a quick review of the battery, the condition and charger … they authorized a replacement. Ding, ding, ding … even with a failed battery, the warranty was honored. Good for Ridgid Tools – you have a satisfied customer.
Hm, if I didn't already have a DeWalt pneumatic 18-Gauge nailer, I'd be adding this one to my want list!