Posted By RichC on December 2, 2021
The Time-Life series books have never been something I've collected, but I've enjoyed looking at them as I would an old set of encyclopedias. There is something fascinating about the photos and history that can distract for hours. An aviation friend included a "poster" from the 1982 series earlier this week which did the same so I'll include it on the blog for this week's Throwback Thursday #TBT – click photo for larger image.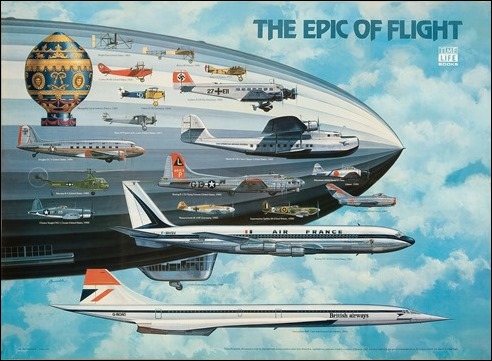 One of the most popular and well-regarded sets ever assembled on the history of flight. Notable because it has a healthy amount of WWII aviation history. Stamped leatherette with color inset to all covers. As with all of these Time-Life sets, the editors were able to tap into Time and Life's enormous image archives. 23 Volumes: The Road to Kitty Hawk, The Explorers, The First Aviators, The Aeronauts, Knights of the Air, Barnstormers & Speed Kings, Flying the Mail, Soldiers of Fortune, Women Aloft, Designers and Test Pilots, The Giant Airships, The Airline Builders, Fighting Jets, Architects of Air Power, The RAF at War, The Luftwaffe, America in the Air War, The Jet Age, The Carrier War, The Pathfinders, The Helicopters, The Soviet Air Force at War, The Bush Pilots.