Posted By RichC on April 21, 2022
As the slow progress on finishing my home office continues, I've set up a temporary office in the basement (below). It is surprisingly comfortable, but I do miss the daylight and looking out the windows.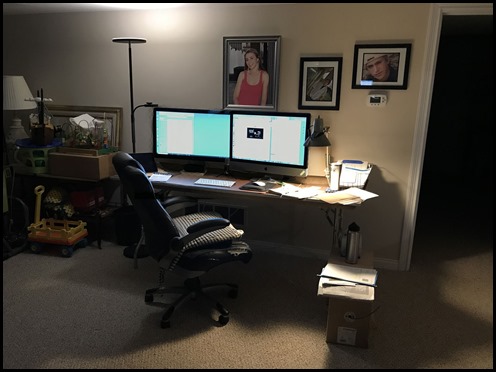 I can't help but reminisce to make this a Throwback Thursday #TBT post after finally removing the painters tape from the iMac and using the appropriate adhisive strips to close it up after the 2018/2019 SSD surgery (click link for photos). My office was pretty comfortable as it was after the new mini split, but I am glad to have at least painted, cleaned out, added the new TV … and will hopefully appreciate the new hardwood flooring (Brenda's requirement for updating my office; I would have been fine with new carpeting).
Tech Friday: A New iMac has replaced an old G4 and PC <= 2013 home office setup
Hardwood Flooring Progress photo from 4/19/2022…