Posted By RichC on June 15, 2021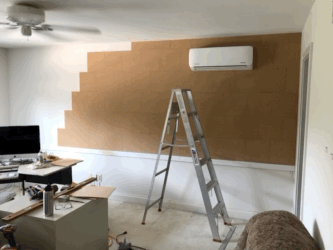 This past weekend I moved forward in getting the mini split AC unit installed in my home office. I started the planned chair rail  and cork wall (insulation, sound deadening and a place to pin maps, etc). I'm not sure about the can of worms I've opened, but I spent half the day on Saturday hauling "junk" out of my office. From holiday décor and seasonal stuff "stuffed" in the closet to boxes of books, papers, magazines and gadget boxes. One has to wonder why I've kept so much stuff over the years?
Still though after tossing a lot, I've managed to keep way too much that I just moved into the guest bedroom for now. The big question is whether I'll find the time and ambition to finish the cord wall, build the corner cabinet, fit the crown moulding and paint the walls and trim? If that were not enough, Brenda would like me to tackle some kind of laminate wood flooring rather than carpeting … then extend the look to a guest bathroom remodel and guest room.
For now … the next step is to get the electrical hooked up and either rent, buy or find someone with a vacuum pump and AC gauges so I can test for leaks and charges from the outdoor unit and get the AC working. Maybe I'll called an HVAC company?