Posted By RichC on April 19, 2022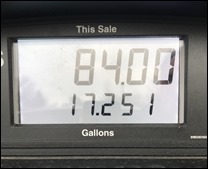 After filling up the 2010 BMW X5 35d with diesel … ouch … I drove to the least painful Ohio DMV location in my area according to the online wait times. Thankfully I came prepared with my passport, address verification and requested ID information. After $56.40 … I came out in less than 30 minutes with a piece of paper and promise my new TSA compliant Driver's License would be in the mail in 4-6 weeks.
As for the cost of fuel, I was able to fill for $4.86 with a 3 cent discount. I can't imagine how challenging it must be for families of lessor means dealing with the costs of essentials (fuel, food, utilities, etc) as inflation gobbles up their paychecks … not to mention those who live on a fixed income!
On a totally different topic, the hardwood floor guys were out on Monday to remove all the old carpeting from my office, the guest bedroom and hall area. Soon the new oak will be installed. BTW, the old carpet was way past its prime.