Posted By RichC on September 1, 2022
Some days I over-think things … today was one of those days.

Like a lot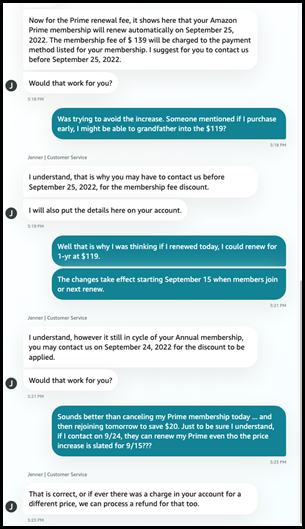 of people, we have had an Amazon Prime membership for a long time. It has its pluses and minus, but continues to provide value and has become a habit and part of our daily lives. We use Alexa and I use the Prime Shipping far more than for Brenda, but she likes the video streaming. Unfortunately the annual price continues to rise and it renews next month 10 days AFTER the $20 annual price increase goes through. Hm, what to do, what to do???
My first thought was to cancel prime in August 2022 and then "join" Prime in September before the 9/15/2022 price jump. Currently the annual is $119 and becomes $139. So before doing that, I decided to start a chat thinking maybe I can just pre-pay and renew early rather than cancel. The polite customer service chat agent (if I can trust them) mentioned that a note would be put on my account and that I could called 1-day before auto renew and that Amazon would honor the $119 renewal or issue me a credit.
Hm .. we shall see.
An Amazon Prime subscription includes "free" one-day shipping on purchases made on Amazon, access to Prime Video, Prime Music, and other Amazon digital platforms and services.

The hike in the US was announced in February, when the price of Prime increased to $139, up from the previous $119 annual rate.

The changes take effect starting September 15 when members join or next renew. Amazon told Reuters the price increases are a result of increased inflation and operating costs as well as faster delivery and more content to stream in the impacted countries.

In April, Amazon posted its first quarterly loss in seven years. The company cited headwinds including higher wages, rising gas costs, and a loss from its stake in Rivian Automotive.