Posted By RichC on August 10, 2006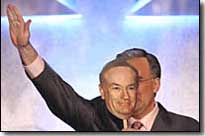 Keith Olbermann, in his nightly news program on MSNBC called "Countdown with Keith Olbermann," has taken to delivering a Nazi "Sieg Heil" salute this past year while placing a cardboard cutout mask of FoxNews counterpart Bill O'Reilly. The Anti-Defamation League has voiced opposition to Keith Olbermann using the Nazi reference and has written a letter to MSNBC that the 'insensitivity' be eliminated from the program. With the recent anti-Semitic comments from actor/director Mel Gibson and sensitivity on edge in Israel, perhaps Olbermann might tone down his publicity stunts?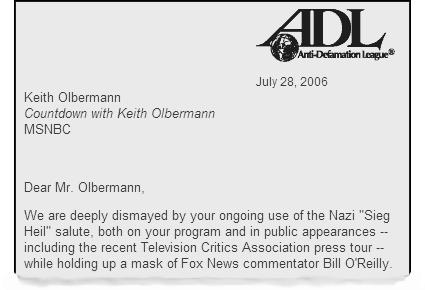 Anti-Defamation League Letter sent to MSNBC – link

Olbermann competes with the #1 cable news show, "The O'Reilly Factor," hosted by Bill O'Reilly who receives Mr. Olbermann's constant jabbing. Both programs offer controversial views upsetting to one political view or another. In the Olbermann shows case, there are a significant number of verbals lashing pointed directly at Bill O'Reilly and his personal character, etc. In recent months this 'feud' (which has generally been one sided) has taken an even uglier turn. The Fox Corporation's public relations department struck back in an article in the New York Times.
Spokesperson Irena Briganti commented:
"Because of his personal demons, Keith has imploded everywhere he's worked. From lashing out at co-workers to personally attacking Bill O'Reilly and all things Fox, it's obvious Keith is a train wreck waiting to happen. And like all train wrecks, people might tune in out of morbid curiosity, but they eventually tune out, as evidenced by Keith's recent ratings decline. In the meantime, we hope he enjoys his paranoid view from the bottom of the ratings ladder and wish him well on his inevitable trip to oblivion."