Posted By RichC on May 3, 2017
A lightning strike looked as if it had taken out my Epson Workforce 545 multifunction fax/scanner/printer/copier … which of all the office devices is probably the one I could most afford to lose. I suspect the "jolt" or whatever caused catastrophic failure came over the phone line, since devices plugged into the wall, APC unit or surge strips are fine … although my iMac did have an immediate shutdown requiring an SMC reset.
After talking with Epson support, I opted to pick up a refurbished Epson Workforce GT-1500 scanner since a fax machine is no longer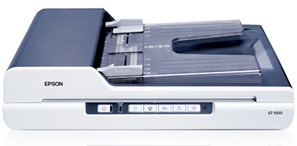 really necessary. I'll miss the quick copies, but can still scan and print when necessary I suppose?
After having all-in-one units for years now it seems unusual to go back to only a scanner? I can still remember my first $1500 which was hardly capable of a quality usable in offset printing. We use to enlarge images on the process camera in the darkroom (stats) and "then" scan them in oversize so as to have more pixels to use in "Desk Top Publishing" of catalogs and newsletter for clients. Oh the good ol' days!
Epson WorkForce GT-1500 Color Document Scanner – Refurbished

Get superior image quality and enhanced productivity from the WorkForce GT-1500 color document imaging scanner. This easy-to-use scanner offers the versatility you need to create PDFs, electronically archive important documents or share records with your workgroup. Use the high-capacity Automatic Document Feeder to quickly scan a variety of sizes up to 8.5×14. And, it not only offers greater productivity, it ensures more efficient operation. With innovative ReadyScan™ LED technology, there's no warmup time required. It's all right at your fingertips with the WorkForce GT-1500, a powerful performer available at an amazing value.

Achieve superior clarity and detail with remarkable 1200 x 2400 dpi resolution
Take on any project with easy, one-touch scanning to PDF, email and more
Enjoy greater productivity with scans up to 20 ppm
Quickly scan stacks of documents with the high-capacity
Automatic Document Feeder — holds up to 40 pages at one time, for quick and efficient scanning
Organize scanned documents with the easy-to-use document management software included
Scan originals in a variety of sizes- from 5.9 x 5.9 to 8.5 x 14
Enjoy more efficient operation with exclusive ReadyScan LED technology — no warmup time and fast scanning speeds
Rest easy with earth-friendly LED technology — no mercury included and lower power consumption