Posted By RichC on September 29, 2006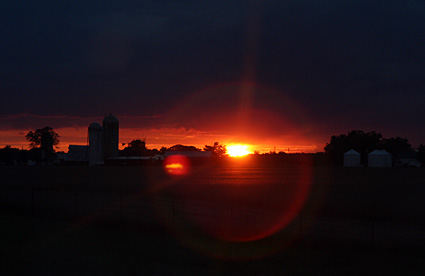 The rain and cold front passed, the sky cleared and the sun melted behind a scenic Ohio farm setting as I made my usual 4 hour drive home from Cleveland to Cincinnati last night. The soothing autumn sun set made for a relaxing trip as it disappeared behind fields of future renewable fuel.
😉
Fuel prices were down again this week which should be good news for consumers and our pocketbooks; this is particularly helpful since heating season is right around the corner. I noticed Flying J was selling diesel for $2.37/gallon along Interstate 71 and that some independent stations even posted gasoline under $2.00/gallon. I talked with someone yesterday who even filled up with unleaded gasoline for $1.94/gallon!


I've made my regular fueling stop the new renewable fuel Sunoco at exit 151 off of Interstate 71. Since its opening my Volkswagen Jetta TDI has been sipping (45.5mpg) from their biodiesel pump. This week I topped off with 14.57 gallons of B20 at $2.53.