Posted By RichC on June 26, 2007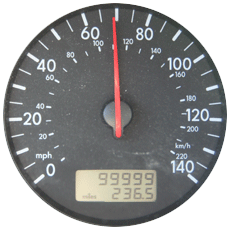 No big deal … but this weekend's graduation trip took me to western New York in my little diesel Volkswagen and my TDI turned the odometer over to the sixth digit … 100,000 miles. As far as modern cars go, the 2003 Volkswagen Jetta TDI has treated me very well. It has operated pretty much flawlessly with only scheduled maintenance. The biggest gripe I have had is with poor winter traction, odd tire wear creating noise but most is due to my tire choice AND lack of rotation. I bought a nice set of Kumho "Z" oversized higher performance tires from Jon Hamilton of RallyVW racing along with 16″ rims and although the slick weather performance is poor, the dry pavement grip is great (wear has been good too). That said, this autumn will have me looking for an all-weather performance tire.

As for the recent trip, the weather was beautiful and I took a few photos. Here are a couple of photos exiting off route 86 in western New York near Lake Chautauqua. The beautiful rest area in Bemus Point is worth a stop … especially if the weather is nice.
(click for larger photos)