Posted By RichC on August 21, 2007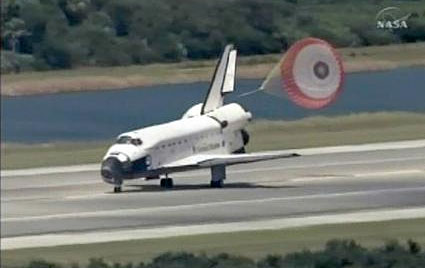 The crew of STS-118 and Space Shuttle Endeavour (see launch post) are back on the ground after a 13 day mission to the International Space Station this Tuesday afternoon. The skies were clear and the landing was picture perfect executed by Commander Scott Kelly at 12:32 p.m. EDT. The mission was filled with work and included 'teaching from space' by teacher/astronaut Barbara Morgan. Morgan and the rest of the seven-member crew spent nine days at the space station to deliver new components and prepare the $100 billion complex for additional laboratory modules.
One glitch early on was that Endeavour was slightly damaged by a piece of foam that broke off during launch but after evaluation by NASA was not mission threatening. The scheduled mission was for 14 days but because of Hurricane Dean (previous post) the mission was shortened to 13 days. Houston, Texas was thought early on to be threaten by Dean, but has now stayed well south, but doling out quite a wallop.
Be prepared for increasing prices at the pump, as 'real or not,' speculation will breed fear … and oil prices may rise. (at least at the pump) Mexico's state oil company has closed and evacuated 407 oil and gas wells, meaning lost production of 2.65 million barrels of crude per day. It is hard to imagine that this will be an issue, considering projections are for winds to be below 100mph by the time Dean passes over the Yucatan peninsula. (see projected winds below … mouse over icons)

IBISeye.com's Hurricane Tracker
Click on past and future tracking points for more detail on the storm.
Update from MSN 8/21/2007:

Crude oil fell under $70 a barrel today for the first time since late June, offering consumers the happy prospect that the price they pay for gas at the pump may be headed lower.

But although rising crude prices often dampen enthusiasm for stocks, today the crude drop was one reason the stock market went essentially nowhere.

Crude closed at $69.47, down 2.3% from Monday, as speculators sold positions after it was clear Hurricane Dean wouldn't be hitting oil and gas production facilities off the Texas and Louisiana coasts.

Crude is down 11% for August so far. And gasoline futures are down 18.6%, closing in New York at $1.868 a gallon in New York.

Motorists have getting some benefit already — and may get more. AAA said the national average of regular unleaded gasoline was $2.777 a gallon, up slightly from Monday but down 20 cents a gallon from a month ago. Gasoline peaked at $3.17 a gallon in mid-May.