Posted By RichC on October 1, 2007

The stock market had a solid day of gains today with the Dow Jones Industrials up 190+ points and setting a new record, but not all segments were stellar. Hardest hit were the drugstore chains as that segment suffered heavy selling pressure.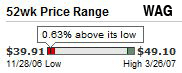 Three of the leading companies that I track and trade were down significantly in an overall up day. The move down was lead by Walgreens (WAG) which reported a rare profit decline.
Walgreens fiscal fourth-quarter was released today which reported that net income fell 3.8% – its first earnings drop in nearly 10 years. Immediately the stock dropped and eventually closed down over $7 per share, about 14%. The CEO blamed higher costs and accounting charges, but cited tough year-over-year comparisons on generic-drug sales. According to analysts' reports, last year, Walgreen reaped big profits as Zocor, Merck & Co.'s (MRK) popular anti-cholesterol drug, hit its stores in generic form in June 2006. "Zocor was by far the biggest generic launch we've experienced so far," Walgreen spokesman Michael Polzin said in an interview.



Concern found its way over to CVS (CVS) and RiteAid (RAD) too, although CVS indicated that their current estimates still looked to be achievable; yet to be seen. RiteAid has been struggling to keep their stock price up and has been down significantly in the past few weeks.