Posted By RichC on May 25, 2009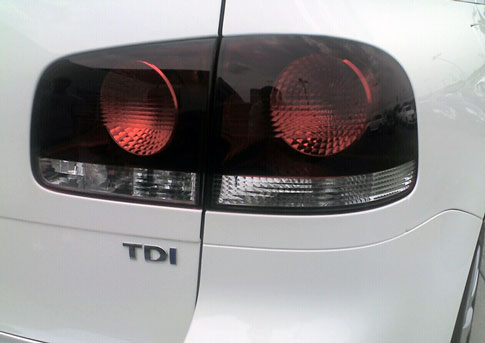 Memorial Day weekend was the first chance I had to get a close up view of the 'new to North America' V-6 TDI 3.0L version of the  diesel Volkswagen Touareg 2. Most TDI advocates have been wondering just when the 'realistic' version of a VW SUV was going to arrive in the states … seeing the V-10 behemoth a bit of an overkill — it can tow  a Boeing 747 (not to mention it's premium price).
Nevertheless, I was disappoint that the options on the model at my local dealer built a diesel Touareg that was a bit pricey; it had about $10K worth of options pushing the priced over $52,000 — that's right up with the BMW X5 35d and Mercedes Benz CDI SUVs. For those trying to be a little more realistic, the base price of the VW Touareg2 V6 TDI is about $42,000 (about $3K more than a gasoline version) and is relatively well equipped. If you are interested in the one in the photos below, I'm sure Stew Williams at FairfieldVW would be glad to sell it to you — tell him Rich sent you!
🙂
Stay tuned for an eventual test drive report, but for now I'll include a few untouched photos from my trusty Palm Treo 700p.
_