Posted By RichC on June 6, 2009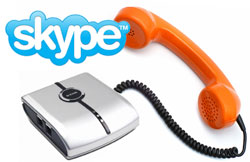 Here's a "How-To" technique for making FREE computer to "phone" calls (not computer to computer) from overseas to any U.S. phone number. Its more the penny pincher in me which enjoys finding a way to use technology than the actual dollar savings since it hardly seems worthwhile for the few calls I "really" need to make. Still, when compared using the convenient — yet expensive ($1.50 min) — Mobal.com GSM cellphone, making a call from computer to phone sounds pretty good.
Here is what I'm planning …
While using my notebook computer at an Internet cafe, hotel or hotspot location, I'll remote into the desktop back in the U.S.  running Skype and a D-Link Phone adaptor. I've found that the easiest way is to use GoToMyPC, LogMeIn, etc type services … some with free service or at minimum trials. Using remote desktop, it is easy to modify the new D-Link DPH-50U's control panel used to connect the Skype computer to standard phones. Under the "Call Forwarding" tab (below), I can modify the "Number to Dial" (currently GOOG411) to the phone I wish to dial. After checking the "Call Forward" box I hit "Apply" and now incoming Skype calls will be routed to this phone number.
Next I use a separate Skype account to 'dial' my desktop PC in the U.S. and listen  to the forwarding after one normal Skype ring (ring number can be changed). The call is made using the standard phone line (no Long Distance in U.S. on my line) and the semi-conference call is made — Skype to Skype to Phone. So far in my testing, the calls have been clear and I've only noticed a slight loss of volume — but the calls are FREE and do not require the purchase additional Skype credits or Skype-out subscription plan.