Posted By RichC on July 12, 2009

View of the Cunard's Queen Mary 2 in the berth once home to the Titanic
The first day of vacation proved to be an excellent 8 hour through the night flight direct from CVG (Cincinnati) to London. Thankfully we processed through customs relatively painlessly after gathering our luggage and taking a motor coach (bus) to Southampton UK … about an 1-1/2 hour drive. I'm glad I wasn't driving since the traffic was heavy and I kept thinking "they are on the wrong side of the road." I know I would have irritated at least one English driver if I were to have be driving.

We arrived early at the port and waiting about 45 minutes to process through the NCL terminal and boarded our ship the Norwegian Jade (see panarama view above of Southampton from our cabin – click for larger).
We enjoyed a buffet lunch and had a nice talk with a couple from North Carolina on their third cruise in less than 12 months. Although the Jade is a sister ship to one we have previously cruised on, it seemed to be superbly cared for and was also a newer ship. After settling in our cabin after stumbling out to our muster station for the obligatory boat drill, I relaxed on the balcony while someone took a nap.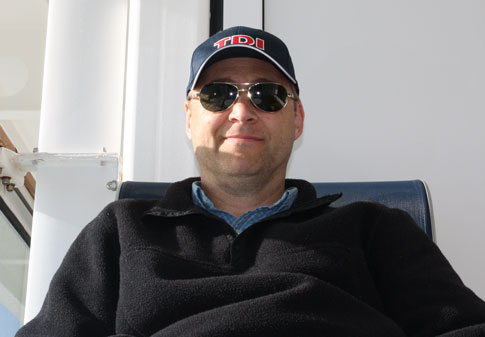 My dinner was excellent (Mahi-Mahi) and our table with a stern view as the sun set and we sailed past the Isle of Wright and southwest into the English channel. As I type this entry, the girl are sleeping to the gentle rolling of our ship. We couldn't have asked for a better start to our vacation.