Posted By RichC on July 14, 2009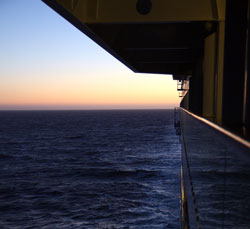 We spent day two and now three of our vacation at sea and are enjoying the day's relaxing … as well as eating (too much food). The weather was cooler on Monday, but much warmer today. The winds the first day out were near gale force as we traveled south from the English Channel through the Bay of Biscay and into the Atlantic Ocean. According to the bridge report the waves were 12 meters, but the Norwegian Jade seemed to plow comfortably southward creating a 30-40 knot headwind when on an upper deck. It was nice to sit sheltered on the balcony as we continued to overtake freighters plodding their way south in the shipping lanes as well.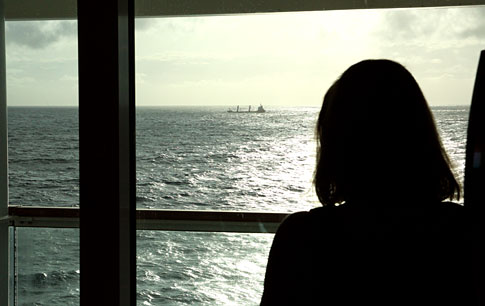 Besides reviewing our itinerary for our first port of call, Malaga in Spain on Wednesday, we soaked in some sun. I spent most of the afternoon reading the Stephen Coonts' book "Assassin" which is a perfect vacation read for a Jake Grafton and Tommy Carmalini fan. I think I've read all in the series over the years and I enjoy following each of the characters that Coonts brings back to save America.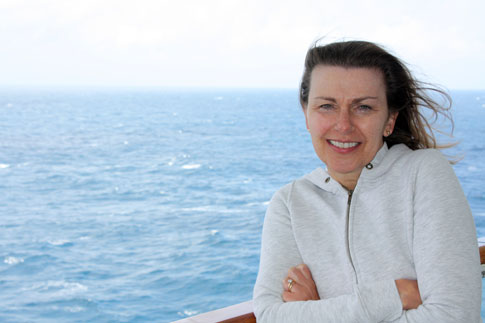 Since we were soaking up the sun on Tuesday afternoon, it is probably obvious that we are moving south and into better weather. The seas have settled to  "moderate" conditions so says the captain, and temperatures were in the 80s today. As I sit typing this blog post on the balcony 6 hours ahead of EST, the sun is just setting in the west over the Atlantic. We are in a very busy shipping lane and are regularly overtaking freighters.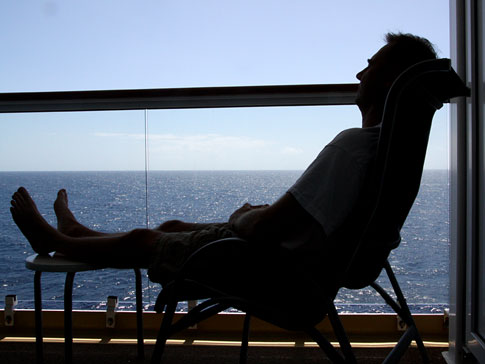 The food and service has been excellent on the Norwegian Jade. Entertainment so far hasn't been to my liking as Monday night was a tenor singer and tonight a well known English comedian. Those who are Benny Hill fans seemed to appreciate him. Tomorrow we'll be up early and going ashore early so it's to bed early.