Posted By RichC on February 22, 2010
If you are like me, you like having a regular routine to start the day; for me it's the newspaper, the Gordon Deal podcast, a large cup of coffee and review of my email inbox, although I won't encourage the large cup of coffee. Today, one of the lead stories in the news pertains to the new rules impacting credit card companies which changes the business of "plastic money."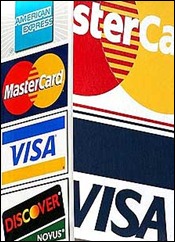 Personally, I've not been all that enthusiastic about 'change' since I've figured out how to best use credit cards and haven't been impacted by extreme charges we've all heard about … but according to some financial gurus, the new regulation make create unseen consequences for even the most disciplined card users.
Last year prior to our trip to Europe, I researched the significant charges that most credit cards had adopted for Americans traveling overseas. We opted to use the Capital One card at that time since others were adding fees (about 3%) to purchases, and depending on how much one spends, this can make an already costly trip really costly. With the new restrictions in place by congress in order to project consumers from digging their holes too deep, banks and card companies are finding new ways to make up the shortfall. Just as liberal politicians look for new ways to tax, credit card companies are looking for new ways to make a buck – so consumers be weary, there will be new changes coming even for (and particularly for) those of us who pay off balances every month and avoid paying finance charges. I looks as if  new or higher annual fees, reduced perks such as cash back bonuses or points, elimination of teaser rates and overall higher rates will become routine policy. Gone may be the days when those exercising care will be able to use "someone else's money " for a month.
One shrewd example I've already noticed is an update coming from Chase. The company is automatically "upgrading" our current  PerfectCard Rewards card which

has traditionally offered a cash back bonus to what their marketing wants you to believe is something better. You bee the judge …  Our Chase PerfectCard Rewards card has been offering us a 5% rebate on gasoline purchases (1% on other items) and has been our our primary card for fuel purchases. The Chase Sapphire card returns to the points structure rather than my preferred "cash" back or rebate. Instead of 5 cents on the dollar for fuel and 1 cent for everything else, 1 point is awarded for every dollar spent. As the marketing clarifies:
Credits begin at 2,500 points for $25.
The "lessor" Sapphire card (in my opinion) is not really an option and will automatically replace our current PerfectCard Rewards card. It almost seems to be marketed (I should have saved the letter) as an elite card similar to the "gold, platinum, diamond, etc" of years past and even leads one to believe that the Sapphire Preferred card might even rival the Coutts, Centurion, Ultima, Chairman, Merrill+, Accolades or Stratus cards offered to the wealthy. One look at what we "had" (below) to what is being force on us with the new Sapphire tells me that new government regulation is going to cost responsible credit card users.
Your Chase PerfectCard™ is just that — Perfect. You earn rebates on all brands of gasoline — not just one brand.

With your Chase PerfectCard, you earn a 5% rebate on all eligible gas purchases at any gas station and a 1% rebate on all other purchases. Your rebate is automatically credited to your monthly statement – no forms to fill out, no keeping track of points.

Earn rebates on all your eligible gasoline purchases and everything else you buy. The more you use your Chase PerfectCard, the more rebates you'll earn and the payoff is fast and easy.