Posted By RichC on February 21, 2010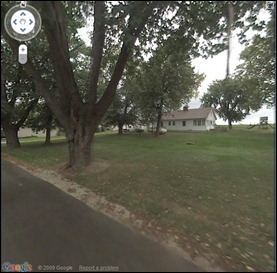 After reading an article by Kathleen Hughes in this weekend's WSJ, I just couldn't help myself in reminiscing about where I grew up … they were wonderful memories for me – I couldn't have asked for a better childhood.
Nevertheless, noting the comment about digitally visiting home, I "re-experienced" memories from my childhood taking the Internet journey with Google Maps and Streetview – well the home I remember most, since I moved while in high school. Sadly, the "Streetview" drive was disappointing. The old oil-sprayed gravel road is 'now paved' and looks very little like I remember. Several cottages and homes have been torn down as well as the old garage and several trees. I can certainly relate to the "mixed emotions" paragraph of the article, but feel tremendously fortunate to have grown up an lived on the lake in the 1960s and 70s – thanks mom and dad.
Technology is helping more of us return to the places where we grew up. But when you arrive, will it measure up to your memories?

'You can't go home again," Thomas Wolfe concluded in his novel of the same name.

But what if you insist on trying?

Visiting a childhood home is something that almost everybody thinks about, and many people eventually do. In fact, in more than a hundred interviews, I found that all but one of the people I talked with had gone back to visit their childhood home. At the very least, many people drive by; some stand outside and stare. Still others write letters to the current owners or are brave enough to knock on the door, requesting a few moments inside.

"It's a way to re-experience all the feelings of childhood just by being in that space," says Esther Sternberg, a rheumatologist and author of a new book, "Healing Spaces: The Science of Place and Well-Being." "There's a kind of memory that focuses on place."

Today, the Internet may be inspiring more people to return. Google Maps allows people to see a street view of their old home. Bloggers are posting photos of childhood homes and lengthy stories on sites such as Apartment Therapy (apartmenttherapy.com). And on YouTube, some people are posting videos chronicling the search for their childhood home. One takes the viewer through a forest in Germany, and another travels along a desolate road in Pittsburgh.

While most people say they want to return simply out of curiosity, psychologists say the visits reflect a subconscious desire to bring childhood into perspective as an adult. For baby boomers stressed by aging parents and teenagers, the visits may offer a quick route back to memories of a better time—an era when parents were healthy, families were still intact, children felt loved and the world at least seemed safer than it does now.

Mixed Emotions

Yet when adults finally arrive at their childhood homes, pleasant memories are often mixed with surprising disappointments.

Most homes don't measure up to the memory. For one thing, childhood homes are usually owned by strangers who have remodeled. But the memory of the original childhood home, just the way it was, never seems to lose ground in the psyche. Discovering that the house has been altered—or worse, torn down—can trigger much greater feelings of loss.

About five years after her mother died, Dr. Sternberg, who lives in Washington, D.C., went back to see her mother's home in Montreal. She had wanted to go back for a long time and finally had the courage to drive up and ask the owner for a tour. The house had been remodeled, but the front rooms were almost identical to the way they had looked in her childhood. That gave her "a good feeling," she says, "a warm, happy feeling."

Visceral Reaction

But as she walked to the back of the house, she discovered the owners had ripped out the old kitchen. That was where she had made Russian pastries with her mother, using sour cherries she picked in the backyard. The space was now a mudroom for the dog. Dr. Sternberg says she had a very powerful reaction to the missing kitchen. "It was a visceral feeling of revulsion," she says. "It was something I couldn't control."

When John Beebe, a Jungian analyst in San Francisco, was invited to speak at a conference in China, he decided he would try to find the house he had lived in there as a child. His father had been a military attaché in the 1940s, and Dr. Beebe remembers living in a "rather grand" house before the family was evacuated and before his parents divorced.

But when he finally found the spot, the house was gone. It had been replaced, in his words, by "drab communist housing." That visit—and watching "Empire of the Sun," a World War II movie about a boy separated from, and then reunited with, his parents—triggered overwhelming feelings of grief, Dr. Beebe recalls. "Twenty-seven years of Jungian analysis, and I didn't mourn my childhood until then," he says.

There can be an upside to such disappointments. "A lot of people haven't fully left home," Dr. Beebe says. "Some people need to go back [in order] to move on."

Others, while claiming to be "just curious" about seeing their childhood home, may have a deeper motive, he suggests: a desire to reconnect to the way they felt as a child before life—school, careers and families—required so many compromises. "In adapting to the world, we all lose some of our soul," Dr. Beebe says. "When we make the journey back, we find some of our soul again."

Oh, That Color

The memories of a happy childhood can prompt some people to try to buy back the past. Or at least re-create it. Walt Disney, for instance, in designing his first theme park, made no secret of his desire to replicate the look and feel of his boyhood home. Thus, Marceline, Mo., became the model for Disneyland's (and, later, Walt Disney World's) Main Street.

Memories of Home

But again, such efforts don't always have predictable endings.

Allen Hammer, a management consultant, was driving through Pennsylvania on a business trip when he suddenly decided he wanted to find the family farm his grandparents had sold several years earlier—and make an offer for the property on the spot. He and his siblings had spent most of their summers there as children, and they used to run around the fields, sneak up on deer, throw stones at groundhogs and steal eggs from the chicken coop.

"It was a total paradise," says Mr. Hammer. His grandparents had been forced to sell the 100-acre farm for financial reasons, and he didn't even know how to find it. So he called his father from the car on his cellphone, and his father guided him through the unnamed dirt roads until he lost the connection.

He finally found the property. "I just sat there, looking at it, thinking, 'This is nothing at all like I remember it,' " recalls Mr. Hammer. "It was like a slap in the face." The dark brown wood of the home had been painted a bright blue-green. The barn looked so small that he wondered how three kids had ever been able to get lost hiding in it.

"I was so deflated, I didn't even want to see inside," says Mr. Hammer. He drove away and dropped the idea of buying it back. Instead, he and his siblings are looking for land in Virginia with the idea of building three houses together for retirement.

"We want to recapture that experience in our old age. We'll be kids again," he says with a laugh.

A Thrill for Everyone

Of course, driving up to a former home, as Mr. Hammer did, is one thing; knocking on the front door is another—a line many people hesitate to cross.

Jody Akeson, a therapist in Rockville Centre, N.Y., says she drives past the house she lived in 40 years ago every time she visits her mother in Newton, Mass. She always has the same thought: "It's beautiful. Why did I ever leave?"

But she never even considers knocking on the door. "It's a boundary issue," she says. "It's not my house anymore."

Homeowners, not surprisingly, find it unsettling to see someone staring at their house from the sidewalk. One day last spring, Betsy Styron, president of a Gainesville, Fla., nonprofit, noticed a man in a baseball cap outside her home taking pictures with a cellphone. He walked a little farther down the street and circled back. Concerned, she called her husband, who went outside and said, "Hi, I'm Bob. Can I help you?"

"I think I lived in this house for a year when I was little, but it has changed a lot," the man replied. The couple invited him in, and he introduced himself as Benmont Tench.

Ms. Styron, a huge fan of Tom Petty and the Heartbreakers, recognized him as the band's keyboard player. "Would you mind showing me the room where I first learned to play the piano?" Mr. Tench asked. Ms. Styron was thrilled.

Mr. Tench, who now lives in Los Angeles, explains that he was "too shy to knock on the door." Whenever he visited his parents' home in Gainesville, he searched for the house because he had such vivid memories of falling in love with the piano there. The visit, he says, "was a wonderful, great big wow."

Last summer, a neighbor of mine in Rolling Hills, Calif., called and asked if a friend, whose family had built our house in the 1950s, could come over. I agreed, and Janet McCaman, a medical sales representative, soon arrived with her mother. The two women politely complimented me on our remodeling. Standing in our backyard, Ms. McCaman related a long string of memories: Her father, an airline pilot, built a small racing plane in our garage. She used to watch her mother put on makeup at the vanity table we had ripped out.

After an hour, she thanked me and headed for the door, but her eyes filled with tears. When I called a few weeks later, she explained her feeling of loss.

"Other families have moved, but a lot of them have passed their homes down to their kids," she said. "It was so emotional to go back there. It just leaves me wondering, how would my life have been different if we hadn't moved?"

— Ms. Hughes is a writer in Rolling Hills, Calif. She can be reached at encore@wsj.com.