Posted By RichC on February 23, 2010
I don't pretend to understand how a man concludes that crashing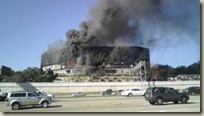 an airplane into an IRS building is justified, but I know that stress can push reasonably sane people into saying and doing some pretty radical things. I get pretty worked up over government waste and irresponsible spending, but can't imagine striking back at innocent people, destroying my own property (below) or taking my own life.
In another case where some believes government (and bankers) have gone too far, Terry Hoskins, east of Cincinnati Ohio, took drastic measures and bulldozed his home to prevent foreclosure.
MOSCOW, Ohio (AP) — An Ohio man says he bulldozed his $350,000 home to keep a bank from foreclosing on it. Terry Hoskins says he has struggled with the RiverHills Bank over his home in Moscow for years and had problems with the Internal Revenue Service. He says the IRS placed liens on his carpet store and commercial property and the bank claimed his house as collateral.

Hoskins says he owes $160,000 on the house. He says he spent a lot of money on attorneys and finally had enough. About two weeks ago he bulldozed the home 25 miles southeast of Cincinnati.

Messages were left for the bank and its attorney.

IRS spokeswoman Jodie Reynolds said individual taxpayer information is private and federal law prevents her from commenting.