Posted By RichC on June 26, 2010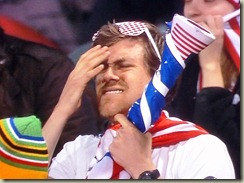 I was drawn into World Cup soccer like most Americans after following their recent advancement … so Brenda, Taylor and I tuned in to watch Saturday's USA – Ghana from South Africa. Although I'm not a big soccer fan, I did coach a few years and enjoyed playing on an intramural team, still I've never had an interest to follow soccer as a fan.
That said, the excitement intensified as Ghana and USA went into extra time after Black Star's Kevin-Prince Boateng scored in the first half and US's Landon Donovan tied it up 1-1 in minute 62. The winning goal was scored by Asamoah Gyan in a shot that went over the head of American goalkeeper Tim Howard.
Commentators were critical the US team's lack of team effort in the first half and rightly acknowledged the consistent and disciplined team play of Ghana throughout the game. Disappointing as it was for the US, the Black Stars ability to control the ball and move it around the field to eat up the clock allowed them to defeat our US team and move to the quarterfinals.   will take on Ghana's Black Stars are now the only African team to advance and will take on La Celeste Uruguay next Friday in Johannesburg's Soccer City stadium in hopes for a spot in the semifinals.  The World Cup ends July 11.

In an event closer to home, my son Taylor was invited to a Justin Bieber concert (free tickets) and claimed he was the oldest non-father/grandfather at the concert. Nevertheless, he admitted he had a great time acting a few years younger with 3 of his friends … who looked as if they had fun too.