Posted By RichC on December 3, 2011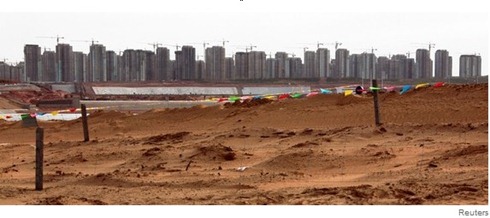 China can't sit back comfortably while watching the U.S. and Europe struggle to regain  footing, as their economic struggle is showing vacant streets and stopped housing projects (click photo above for Reuters slideshow). China could be the third economic domino as the slowdown rolls west to east around the globe.
Here in the U.S. we have a few bright spots after three challenging years … but we also need optimism. American corporations have tightened their belts, banked some money and refocused on efficiency. Our "bailed out banks" are now better managed, consumers are purchasing (auto sales and November holiday shopping) and we've even front paged better news regarding employment … although caution is the word.
Just as a European crisis and a weak U.S. recovery are hurting Chinese exporters, the confidence that had sustained China's property boom is evaporating, causing a double whammy for growth: fading demand overseas and at home at the same time.

The construction slump could not have come at a worse moment for China's factories. A key manufacturing measure Thursday, the official purchasing-managers index, fell to 49 in November, below the 50 mark that separates expansion from contraction and the lowest since the financial crisis in February 2009.

With both the real-estate and export sectors in trouble, the warning light on China's growth is flashing red. Like in the last crisis, China's leaders have been quick to react but this time around their options are limited.

A slowdown in China would have far-reaching consequences world-wide, from commodity producers in Australia and Brazil to U.S. exporters that target China's consumers and a crisis-ridden Europe seeking financial backers.