Posted By RichC on February 28, 2012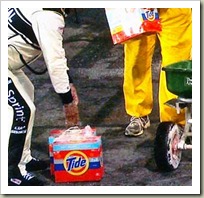 All highlighted at the Daytona 500 of course!
In an odd turn of events, Sunday's rain delayed big race was delayed further due to more rain for the Monday afternoon start, but eventually got underway Monday evening, much to the dismay of my wife (she would have preferred something other then watching cars turning left for several hours). The 200 mph bumper car race seemed to be set up for the normal finish, but with 40 laps to go Juan Pablo Montoya crashed into a safety vehicle during caution (not really his fault) … a jet engine track drier with 200 gallons of fuel. The following fireball on the new 10+ million dollar surface then threatened to end the race. Cooler heads prevailed and quick work from the fire and safety crews helped cleaned up … with of all things Tide laundry detergent and prevent real damage. After yet another delay, the red flagged race restarted. In the early Tuesday morning hours the race finishing without further delay and strong running Matt Kenseth held off both Dale Earnhardt Jr. and Greg Biffle to win for the second year in a row.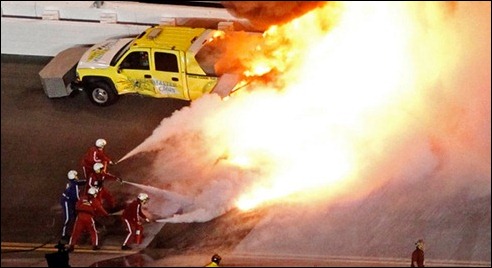 Besides racing, Twitter buzzed due to Brad Keslowski having his iPhone in his racecar. Although he wasn't tweeting and driving … he was active and posted photos from the track during the red flag and grew his 60,000 followers to over 200,000 in about an hour. (yes I was one of them – couldn't resist watching him with other drivers gathered around while the television cameras were rolling)