Posted By RichC on April 6, 2012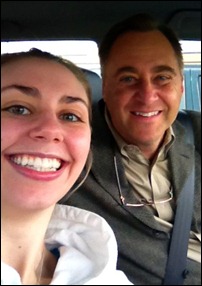 I spent the week traveling "primarily" using the new to me Apple iPad 2 as my personal computer and am working on a longer version of "my impressions" that I'll either post tonight or Saturday. I CAN say that I now understand why the tablet niche is dominated by the iPad and have to admit that I'm sold on this gadget – although one of the shortcoming is a good WordPress blogging app (any Windows Live Writer "like" app suggestions appreciated).
On my return drive, I also had a chance to visit with my daughter who enjoyed comparing my iPad to her TouchPad. She quickly put it through the paces (used the front facing low quality camera to take a photo) and wondered why I didn't have the Verizon service running. ($$$) Having the a 3G contract or paying for the prepaid would be nice, but the small-ish data cap of the lowest priced plan is hard to justify when tethering to my Palm Pre is relatively easy to do for those times it is not possible to use free wifi and need a mobile connection. Still, it would be nice to have a more affordable instant on option.
The data connection speed using my Sprint Palm Pre tethered to the iPad here in Cincinnati below, but Katelyn was able to stream Netflix using my Palm Pre tethered Sprint connection in Columbus as it must have been much faster???
Katelyn doing laundry in her "orange" walled apartment & a tethered iPad/Sprint speed test