Posted By RichC on March 26, 2012

Those of you who read my blog once in a while know that I've struggled to decide which way to go when it comes to eReaders, Android tablets or iPads (or smartphones for that matter). I'm no longer on the fence; as timing would have it,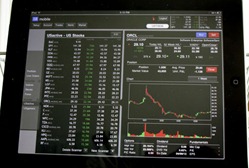 a family member of one of my customers upgraded to the new iPad (3) and I was offered his older 64GB Verizon iPad 2. (so old) 



No complaining here …a good device at a fair price.
The problem now is that I'm spending too much time looking for apps and playing with my new toy. I'm not planning to subscribe to the 3G data plan at this time … but might look at turning it on and off when traveling if that is possible (BTW, my Palm Pre tethers in an emergency I can still connect when not within a wifi connection.) Those of you using an iPad regularly, do keep me posted as to likes or dislikes of a bluetooth physical keyboard and case … I'm thinking an iPad might make a good travel replacement for my six pound notebook and case of accessories?