Posted By RichC on October 3, 2012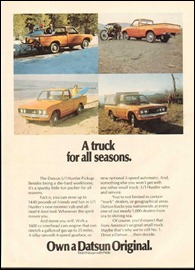 When I was a teenager and others guys were dreaming of a Camaro, Firebird, Mustang or Barracuda, I ogled the Datsun Lil' Hustler. I dreamt about crisscrossing he country with a sleeping bag in the bed while it's 4-cylinder engine sipped 50 cent gasoline (Whoa … 25 mpg!). I suppose I should have been looking for Volkswagen Beetle or Microbus like my friend Kamikaze, but even I thought they were for hippies (my dad definitely did).  I figured a little economical truck would serve double duty in my summer farm and construction jobs and be able to haul my gear to college too. Neither the summer of cross country tour or the Datsun Lil' Hustler was meant to be.
Instead I painted and started driving my mom's 1967 Ford Custom 500 when I was in high school and eventually rebuilt a 1974 Capri when I went to college (someday I'm going to have to find "real" photos not ad photos – below).
I'd like to say that their might be a second chance for me to own a Datsun … but so far from what I've heard and read, Nissan's new low-cost ("cheap" actually) Datsun strategy will be targeted at 3rd world markets. Nevertheless, I love the idea in bringing the nameplate back.
In a bold move into the auto industry's fastest-growing category—emerging-market countries—Nissan Motor Co. is planning a revival to this Beatles-era star that might surprise its fans. According to interviews with Nissan's CEO, Carlos Ghosn, and other company executives, the rebooted car will appear in these countries as bare-boned as any rival has tried. And Nissan is hoping to set new lows for pricing for a global auto maker, offering the cheapest Datsun model for about $3,000 to $5,000.