Posted By RichC on January 19, 2012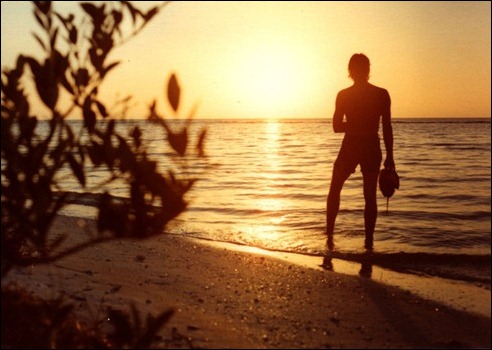 My college friend Dallas on Marco Island BEFORE it was developed – 12/1978 
Who doesn't enjoy reminiscing a little bit about "the good ol' days" after looking through a couple of old photos? Here are a few from a trip to Florida over Christmas break back in 1978 … whoa, we were young.
This past weekend when an old Ohio Northern University college friend's name came across my computer – actually his wife's – and she requested to connect by Facebook (not that I use it much). After saying yes and noting the family photo, I dug into my draw of old photos and spotted a couple which made me smile. Hmm … an archive type blog post perhaps???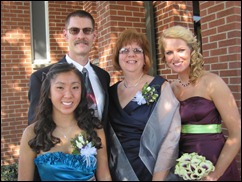 It was great to see Dallas and his family in a photo since we haven't connected since the 1980s. It does seem like I've been able to connect with a couple of old friends this way like Jerry, Bill and Don my room-mates and one of my closes high school friends Charlie, so it is great to add Dallas Guilford to the archive.
For the record, the photos above were taken during one of our several road trips during Christmas break. I think I took one every year and several of them with Dallas. We eventually fixated on camping about as far south on the eastern side of Florida at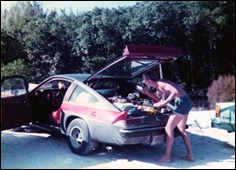 Collier Seminole State Park since we could drive each day to the small town of Goodland for supplies and to Marco Island for the sunshine and beach. Back in "the day" we had to use plywood sheets to drive over the soft sand trails that lead to Tiger Tail Beach … pre-housing or roads. Besides dealing with bugs and sand, the time was terrific.
I believe the trip above was our 1978 trip and we drove a Oldsmobile Starfire that Dallas named Earl – who doesn't name their car?
Dallas is the guy who taught me car rebuilding skills as it was a way for us to own late model vehicles on the cheap.  I've owned several totaled vehicles purchased from wrecking yards that I was able to rebuild and sell … and no doubt Dallas lost track of the number he was able to turn. Below was my first totaled project car that we worked on in the evenings while in college … a 1974 Capri (although I did an engine rebuild, rust repair and paint job with my dad on our 1967 Ford Custom 500).