Posted By RichC on February 23, 2013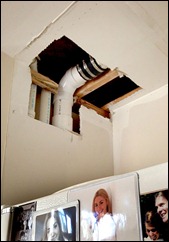 Although I'm not really accomplishing much this Saturday morning, I am working on a few projects. Little things like setting the type and printing the dinner menus (PDF) for Katelyn and Drew's wedding and creating the type mask for a sign project are going ok, but without the basement workshop being back together, it is difficult to get some "real" work done.
One of the priority projects is to reframe and drywall the "hole" over the refrigerator. A plumber helped me find the cause of a drip. When we built the house 17 years ago, a framing nail used to add nailers for kitchen cabinets up a hole in the elbow. Eventually it leaked and the drip made its way down the wall and damaged the ceiling in the basement workshop. There wasn't enough water to cause concern, but the s-l-o-w drip made it challenging to find the cause.