Posted By RichC on September 8, 2013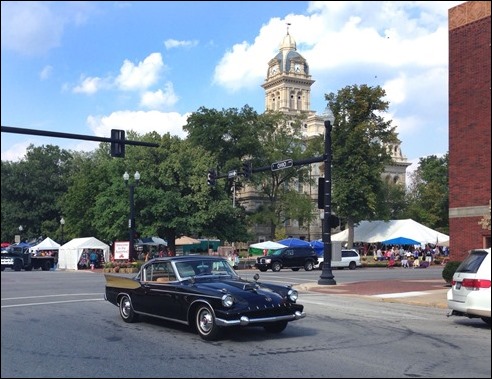 My dad and I enjoyed the day together doing something we both enjoy – looking at cars and being together. As usual, he took his 1958 Packard Hawk to the Shelby County Applefest in downtown Sidney Ohio on Saturday and wondered if I was going to enter my Mercedes Benz 300D Turbodiesel this year. I laughed at the idea since its my daily driver and not a show car … but after realizing that there wasn't a single Mercedes in the town or in the fairly large showing … I might consider it next year?


Panorama of downtown Sidney Ohio during the Applefest and Carshow (more photos below)
Dad (Bud Corbett) by his 1958 Packard Hawk and at the registration table above.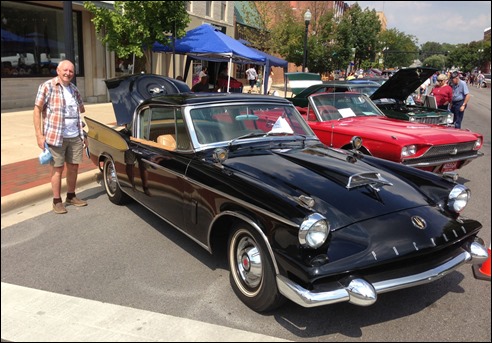 A little info on the rare 1958 Packard Hawk …
Engine

Type: Cast iron 90° V8, Silver Light dish-type pistons

Displacement: 289 cubic inches

Bore X stroke: 3.56 X 3.63 inches

Compression ratio: 7.5:1

Power @ rpm: 275 hp (205 kW) @ 4,800 rpm

Torque @ rpm: 333 lb·ft (451 N·m) @ 3,200 rpm

Valvetrain: In-head valves, solid lifters

Main bearings: 5

Ignition: Delco-Remy breaker-point

Fuel system: 2-bbl Stromberg 380475 downdraft carburetor, McCulloch supercharger, 5 p.s.i. max

Lubrication system: Full-pressure, gear-driven

Electrical system: 12-volt, 30 amperes

Exhaust system: Cast iron, dual exhaust

 

Transmission

Type: Borg-Warner Flightomatic automatic

Ratios: 1st: 2.40:1

2nd: 1.47:1

3rd: 1.0:1

Reverse: 2.0:1

 

Differential

Type: Semi-floating hypoid, Twin-Traction Spicer-Thornton limited slip

Ratio: 3.31:1

 

Steering

Type: Power assist, Saginaw recirculating ball

Ratio: 19.2:1

Turns, lock-to-lock: 4.5

Turning circle: 41 feet

 

Brakes

Type: Four wheel, power-assist Wagner hydraulic

Front: Cast-iron finned drum, 11 X 2.5 inches

Rear: Cast-iron drum, 10 X 2 inches

Swept area: 172.8 square inches

 

Chassis & Body

Construction: All-steel, box section, double-drop side rails, 5 crossmembers

Body style: Two-door, five passenger hardtop, soft top prototype

Layout: Front engine, rear-wheel drive

 

Suspension

Front: Individual unequal-length upper and lower control arms, coil springs, hydraulic shocks, anti-sway bar

Rear: Live axle, semi-elliptic leaf springs, hydraulic shocks

 

Wheels & Tires

Wheels: Kelsey-Hays tubeless 5-lug stamped steel

Front/rear: 5.5 X 14 inches

Tires: Classic bias-ply

Front/rear: 8.00 X 14 inches

 

Weights & Measures

Wheelbase: 120.5 inches

Overall length: 205.2 inches

Overall width: 71.3 inches

Overall height: 54.6 inches

Front track: 56.7 inches

Rear track: 55.7 inches

Shipping weight: 3,470 pounds

 

Capacities

Crankcase: 5 quarts

Cooling system: 17 quarts[vague]

Fuel tank: 18 gallons[vague]

Transmission: 19 pints[vague]

 

Calculated Data

Bhp per c.i.d.: 0.95

Weight per bhp: 12.62 pounds

 

Performance

0-60 mph: 12.0 seconds

¼ mile ET: 16.7 seconds @ 82.3 mph

Top speed: 125 mph

Fuel mileage: 12 mpg city, 20 mpg highway

 

Production

1958 Packard Hawk: 588 (est 250 restored or under restoration)