Posted By RichC on August 9, 2014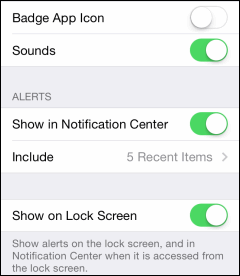 Ok … scratch this week's Tech Friday post on setting up the iPhone to receive Gmail as if it were "push" rather than "fetch" (the only way Apple's email client can receive free Gmail nowadays).  Unfortunately my iCloud workaround was a convoluted experiment that wasn't elegant or simple.
I've toyed with the idea of switching to a 3rd party app like Seed Mail or the like. They have great potential but one wonders if will they be around to support the app once a user is committed to the software?
Instead, I've decided to go back to "fetch" and just use the Gmail app as a "notifier." In other words, go to Settings > Notification Center > Gmail and set the toggles (image right) to sound a "bing" and display the "banner" notification on the iPhone screen – but not swipe the message or go directly to the Gmail app.

New email arrives immediately which signifies me that a newly arrive message is ready to be retrieved with Apple's built-in Mail app. Since I also aggregate email from other accounts together, everything arrives in a single "All Inboxes" list (or individual boxes), this make quick work out of monitoring both my business and personal email (junk mail, sign up address and forums mail is kept off my cellphone and is only check when I'm at a computer).
So far so good using this method, although I wish the powers that be at Apple and Google could go back to the way it was because it is so difficult dealing with this "First World Problem™" (the symbol is for my friend Scott Bilik, but his post came up #7 on a Google search so perhaps he has the trademark?).