Posted By RichC on October 23, 2014
After our 16 hour drive on Wednesday from Cincinnati to Florida, Brenda and I were welcomed by our liveaboard friends Mark and Dar with a cold drink. They had already turn on our refrigeration making it convenient to repack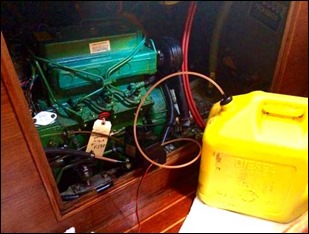 a few items from our cooler box into the galley. I sure appreciate them keeping an eye on our sailboat. Great friends.
After a good night sleep Brenda and I went our separate ways … well she left for Delray Beach and I stayed. Her project was to pack up and get her mom's condo ready to rent in January and unfortunately she has already filled up the Honda Pilot – just was I had feared.
I started in on a few boat maintenance items like scrubbing the decks … the black squiggles sticking to everything is a mystery. Mark calls it "lizard poop" but must be some kind of droppings from insects landing on the deck and dodger (I left it up this hurricane season). After scrubbing for two "wonderful hours in the sunshine," it was time to put the bimini back up for some shade in the cockpit, since hurricane season is winding down. I hope the risk is over for 2014?
The messy project for the day was below decks. I decided to try my hand at filtering some of the dead algae out of my tank full of diesel fuel (42 gallons). I only had enough 5 gallon container for 20 gallons so the balance is going to have to wait and we'll have to risk plugging the fuel filters on our next sail.