Posted By RichC on October 31, 2014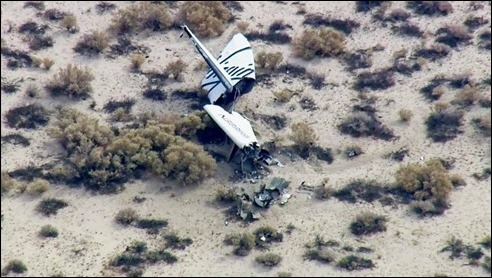 The debris photos are starting to show up on the Internet on Twitter after the Virgin Galactic SpaceShipTwo prototype was lost after its first powered test since January. The crash of this suborbital "passenger carrying" spaceship happened at the Mojave Air and Space Port in California according to officials. Two pilots were aboard the craft and their condition is not known at this time, but according to reports the malfunction happened upon powering up of the rocket engine.
More than 800 people have paid or put down deposits to fly aboard the spaceship, which is carried to an altitude of about 45,000 feet and released. The spaceship then fires its rocket motor to catapult it to about 62 miles (100 km) high, giving passengers a view of the planet set against the blackness of space and a few minutes of weightlessness.

The spaceship is based on a prototype, called SpaceShipOne, which 10 years ago won the $10 million Ansari X Prize for the first privately developed manned spacecraft to fly in space.