Posted By RichC on November 1, 2014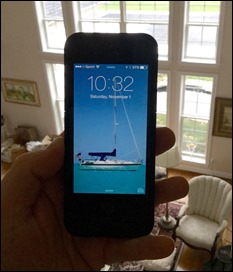 Slowly but sure I'm corralling my carry and travel computing gadgets and getting a handle on wasteful monthly expenses associated with keeping them connected. Those who have followed my blog from a technology perspective have probably detected my economizing while still "trying" to remain in current century computing. This year our grown children are on their own cellphone plans and that gave me the perfect opportunity to switch carriers without the dreaded ETF or phone contract to deal with. The timing was perfect for the switch from Sprint to Ting since the later also recently announced BYOD permission to bring my own iPhone5s (ridiculous).
The switch reduced my cellphone bill from the $112/mo Sprint plan to what looks to be about $64/mo + tax with Ting. Not bad for the same service plus a few extras like free tethering, no contract and a further reduced bill if we have months of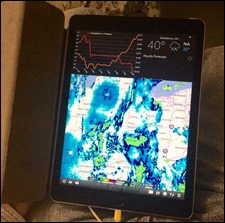 fewer minute, text messages or megabytes of data (still disappointed in data cost). So far this is a great savings.
Step two was selling my old iPad2 on eBay($235) and upgrading to a new iPad Air 2. I seriously thought about giving the Microsoft Surface Pro 3 a try, but realized just how much my iPad had become my favorite device. It is a terrific ebook and newspaper reader and now with the reduced weight is even better. That still leave me with my 7 pound 2007 Gateway NX570XL behemoth of a laptop to horse around … so there is still upgrade work to be done (but getting 8 years out of a daily use notebook computer is pretty good). Upgrade aside, I do find myself using my iMac desktop more and "settling" for light-duty email and websurfing on the iPad.
Speaking of staying connected, all devices now love to be connected to the Internet all the time. No longer is it realistic to "dial in" a few times a day to download email or update a file. No … the cloud connection is pretty important so at minimum WiFi is a way of life. Thankfully most of the time I can work from one "unlimited WiFi connection" to another, but for those in between times it is becoming convenient to have seamless WiFi to wireless on every device. With that realization, I added a pre-paid T-Mobile service to my new iPad Air 2 (FYI, there is a promo included with my iPad purchase of 5 months and 5 GB of T-Mobile LTE for $10, a no-brainer).
For comparison sake, I checked each device at the house to see how they faired. None of them are earthshattering, but then again I really don't want super fast carrier based wireless gobbling up my data in a single download or video either. All are acceptable although I continue to be disappointed with my Time Warner Cable Internet (part due to my 8-port NetGear ProSafe VPN firewall I'm sure).
The final pieces to my travel puzzle is using my free NetTalk VOIP phone at home and Google Talk/Voice on my computer for business calling or the Hangouts app on my iPhone to make phone call in order to reduce my Ting usage too. Besides Google's free phone calling, I've been using the Freedompop app on my iPhone (200 minutes/mo free) giving me a Florida based phone number … a way for two Ting phones on the same plan to call each other and reduce minute use!
Freedompop is also my LTE MiFi device as a hotspot when traveling. As mentioned before, it worked flawlessly on our last trip to Florida as we didn't even bother accessing the marina's wifi network (notoriously slow). I do pay for both 3G fallback ability ($3.99) and rollover data ($3.99) so as to "bank" my monthly 500MB of data so more GB is available when needed (below).

A final pieces of the puzzle that are really necessary to mention are the overseas SIMed Global old school flip phone and a free smartphone on the Freedompop network that cost "zero dollars" per month (this should be what those on public assistance use). The Android Samsung Galaxy S2 phone is allotted 200 minutes per month and 500MB of data … but service and quirky interface is less than perfect … but it is free! Keeping these phones active costs nothing … even though the global phone is expensive to use when traveling in or beyond the U.S.
Monthly projected expenses for my "mobile" life are now:
Ting (2 iPhones) $64 + T-Mobile $2/mo (promo) + Freedompop $8= Total $74+ tax.