Posted By RichC on February 26, 2015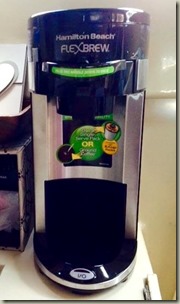 Ever since getting my Keurig Coffeemaker back in 2009, I've used it nearly everyday … and multiple times a day at that. It makes making single cups of coffee easier and keeps my coffee drink habit to cups rather than pots! I purchase a variety of specialty coffees or cans of coffee (usually Chock Full o'' Nuts) and have been thinking about a second smaller unit for the boat since making a single cup would be easier than getting out the percolator or boiling water to pour through a drip basket?
The smaller Hamilton Beach Flexbrew was mentioned by a fellow sailor as small and without the reserve water tank … something they liked. It does run on 110v but could operator for the short brew cycle on the inverter? There are other brands so probably should continue to look around?