Posted By RichC on May 27, 2015
Brenda and I finally watched the Clint Eastwood directed movie about Navy Seal Chris Kyle titled American Sniper this Memorial Day weekend.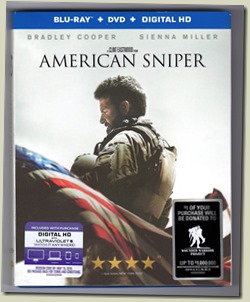 It was worth the price of a DVD purchase, although I'm not sure emotionally I'll want to see it again. The movie left me with gut wrenching sorrow and little solace that the heroic efforts of our military is making any gains in defeating our enemies. I deeply want to believe that stability the middle east is salvageable and that the sacrifice of so much blood and treasure is worth it, but the victories seem so paltry compared to where we find our world after over a decade of war.



Still, I'm thankful there are those willing to dedicate their lives to defend our country and freedom. The decisions are difficult for all in command and in the field. It is politically easy to be critical in hindsight, but the war against Radical Islam and those committed to killing in the name of a religion is not going away.
The leftwing media criticism of this movie was way overdone. It does little to celebrate war or glorify the job of a sniper as he protects his men. It does a lot in showing the sacrifices our military men and women (and families at home) make in answering the call to country. We do not honor or thank them enough.
"The only thing necessary for the triumph of evil is for good men to do nothing.."
–Edmund Burke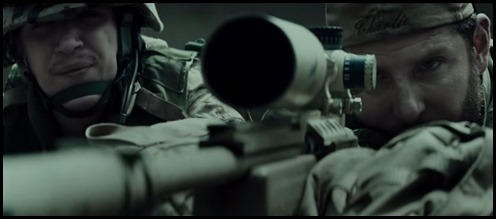 From director Clint Eastwood comes "American Sniper," starring Bradley Cooper as Chris Kyle, whose skills as a sniper made him a hero on the battlefield. But there was much more to him than his skill as a sharpshooter.

Navy SEAL Chris Kyle is sent to Iraq with only one mission: to protect his brothers-in-arms. His pinpoint accuracy saves countless lives on the battlefield and, as stories of his courageous exploits spread, he earns the nickname "Legend." However, his reputation is also growing behind enemy lines, putting a price on his head and making him a prime target of insurgents. He is also facing a different kind of battle on the home front: striving to be a good husband and father from halfway around the world.

Despite the danger, as well as the toll on his family at home, Chris serves through four harrowing tours of duty in Iraq, personifying the spirit of the SEAL creed to "leave no one behind." But upon returning to his wife, Taya (Sienna Miller), and kids, Chris finds that it is the war he can't leave behind.

A two-time Oscar nominee for his work in "Silver Linings Playbook" and "American Hustle," Cooper heads the cast, which also includes Sienna Miller, Luke Grimes, Jake McDorman, Cory Hardrict, Kevin Lacz, Navid Negahban and Keir O'Donnell.

Oscar-winning filmmaker Clint Eastwood ("Million Dollar Baby," "Unforgiven") directed "American Sniper" from a screenplay written by Jason Hall, based on the book by Chris Kyle, with Scott McEwen and Jim DeFelice. The autobiography was a runaway bestseller, spending 18 weeks on the New York Times bestseller list, 13 of those at number one.

The film is produced by Eastwood, Robert Lorenz, Andrew Lazar, Bradley Cooper and Peter Morgan. Tim Moore, Jason Hall, Sheroum Kim, Steven Mnuchin and Bruce Berman served as executive producers.

Eastwood's behind-the-scenes creative team includes Oscar-nominated director of photography Tom Stern ("Changeling"); Oscar-nominated production designer James J. Murakami ("Changeling") and production designer Charisse Cardenas; Oscar-winning editor Joel Cox ("Unforgiven") and editor Gary D. Roach; and costume designer Deborah Hopper.

Warner Bros. Pictures presents in Association with Village Roadshow Pictures, A Mad Chance Production, A 22nd & Indiana Production, "American Sniper." The film will be distributed by Warner Bros. Pictures, a Warner Bros. Entertainment Company and in select territories by Village Roadshow Pictures.