Posted By RichC on June 21, 2015
I'm looking forward to visiting with my dad today and am thankful to still be able to visit with him for another Father's Day. It's been a busy year for my brother and me between the concern over him living alone last year, to the hospital stay, rehab and month or so in the nursing home earlier this year. I'm thankful things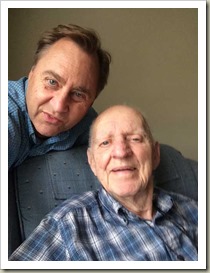 have settle down and both 'he' and 'we' are pretty satisfied with the Park Lane assisted living facility and staff in Sidney, Ohio.
Unfortunately … with the staff being relatively new, and the assisted living facility only a year old, a few items are getting overlooked. This really shouldn't be the case considering the fairly steep monthly cost. Hopefully this will steadily improve.
It take a little more vigilance on our part to be sure his care is what it should be … especially since dad's mind is in and out of focus and sharpness is not what it use to be. Dementia, for millions of aging seniors, is a debilitating condition. For now I'm just content to know my dad understand he needs the help and  is mostly appreciative for the assistance.
BTW, Happy Father's Day to all dads.