Posted By RichC on August 6, 2015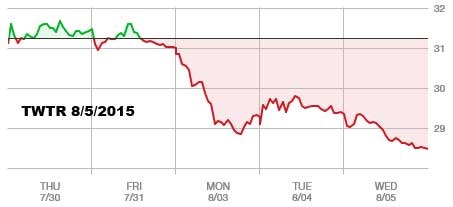 I've been watching some tech stocks climb as their valuations seem exorbitant while others languish; it makes little sense to me. Stocks like Apple ($AAPL) look oversold considering their  while IPOs in other startups continue to attract money. Then there is the companies heavily used and relied on by media and celebrities alight, Twitter ($TWTR) which is beaten to death.
Twitter Inc. fell to a fresh all-time low on Wednesday, as enthusiasm on the Street for the social-media company continues to fade.

Twitter shares traded as low $28.59. That is well below its all-time high of $73.31, set on Dec. 26, 2013, shortly after the IPO. With the latest leg down, the stock is approaching its IPO price of $26, and is well below the first-day closing price of $44.90.

Even back during the heady days following its IPO, it was impossible not to notice that Twitter was being richly valued, especially for a company that wasn't turning a profit. But the story that was being sold was "untapped potential" — the hundreds of millions, even billions, of possible customers out there.

The concerns didn't disappear –the stock's performance shows that–but the company was consistently able to rebuff the doubters with the promise of that potential. Think of it this way, Twitter sits in the the middle of two Venn diagram circles that makes it especially attractive to investors: it's a hot, new-tech company, but it's got a product that most people can understand. Taking a flyer on it allowed investors to be both alpha traders and Warren Buffett .

The only problem is, the company isn't making money, isn't projected to make money for several more years, and has had trouble articulating a path toward profitability. Actually, that's only the most obvious problem, and not even the one that rankles investors the most. There's been a perceived lack of vision and inability to capitalize on the platform. There's been a significant amount of executive turnover, most visibly earlier this year when CEO Dick Costolo stepped down, and was replaced by on of the company's founders, Jack Dorsey (who showed up with a fairly shocking Grizzly Adams-style beard).

The biggest issue, though, and the one that's triggered the latest selloff, is the stagnation in the service's user base. In its latest quarterly report, the company said it had 304 million core users, virtually unchanged from the 302 million it reported in the first quarter. Even Mr. Dorsey called the numbers "unacceptable," and his displeasure sparked a selloff.

"On the IPO Twitter looked like a world beater," Albert Fried analyst Richard Tullo wrote on Monday, "today people are reconciling the their 20-year models because guess what no one, not even a grumpy man like me, modeled Twitter users as flat."