Posted By RichC on August 5, 2015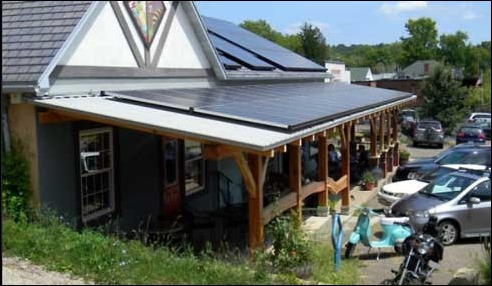 If you are in Ohio and are looking for an interesting weekend drive now that gasoline prices are down (diesel too), take a drive to the Village Bakery and Café in Athens, Ohio. (of course that seems as counterproductive as Al Gore flying in a private plane if you are really thinking "green"?) They are making a effort to run their business "off the grid" and utilize geothermal and solar to reduce their energy needs. It is interesting to see what "can" be done if a person puts and effort (and a few dollars) into it. Politically I'm not and advocate for government forcing the "green agenda" … but I'm all for the move when it is individually by choice.
See an article posted in the Inquistr.com … snippet below:
This quaint bakery is known as the Village Bakery and Cafe. Located in Athens, Ohio, they are leading the charge for resilient food and energy economy for the state. In order to do this, they commit to bringing the freshest and most delicious sustainably-grown ingredients for their foods, and their menu reflects what is in season. Along with their bakery, they have a grocery, a wood-fired bake house called Della Zona that bakes pizzas, and a coffee house known as Catalyst Cafe.
However, what is accumulating a lot of chatter among the green communities is the fact the Village Bakery and Cafe is doing all they can to completely run on renewable energy. They want to be 100 percent off the grid. This includes a geothermal unit to help keep energy costs down, solar panels, and using Energy Star utilities, as reported by The Athens Messenger.
Christine Hughes and Bob O'Neil, owners of the Village Bakery and Cafe, made a statement supporting such an endeavor.
"Bit by bit, we're cutting back our fossil fuel dependence and our goal is to be 100 percent run on renewable energy."
The Solar Cookie is the featured product for the month of August in the Village Bakery and Cafe.
Presently, the Village Bakery and Cafe is halfway to their goal. They expect to reach it by 2017. But for now, they are just doing their best, taking one step at a time. And to help celebrate, they are featuring a product for the month of August called the Solar Cookie. It should also be noted the cookie is actually sponsored by local partnerships with The Messenger and Appalachian Center for Economics Network. But the sponsor that truly sums up the Village Bakery and Cafe's mission is Third Sun Solar.
The Village Bakery and Cafe is located at 268 E. State St. Athens, Ohio. It is just tucked away under a broad overhang to help keep it cool when the days become hot.