Posted By RichC on September 10, 2015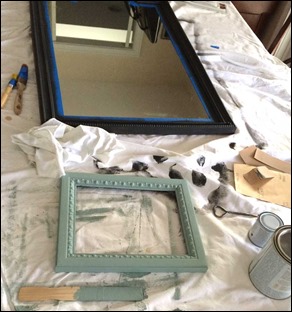 When my daughter Katelyn was home a few weeks ago, she wanted Brenda to try painting a few things with Annie Sloan Chalk Paint. It happens to be a fairly popular crafty decorating "thing" and a creative way to reuse old furniture. This started the process of looking for items around our house to paint. First Brenda stared with a framed mirror (still in progress) and then she began looking for smaller items like picture frames and pots. I pulled photos out a an old frame in my office and figured it would be a good time to scan and archive a couple photos. My favorite is a photo of Katelyn, Taylor and Brenda (below) from quite a few years ago … #TBT.
Behind that photo was an old photo of Brenda's dad as an Air Force Lieutenant in World War II (1943, I think). What a great photo – one that I forgot it was in the frame.