Posted By RichC on March 30, 2016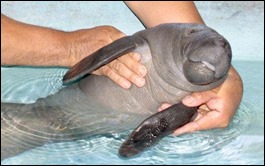 According to posts on Twitter and tweets and shares among friends … today is #ManateeAppreciationDay.
My interest in learning about Manatees goes back to the the late 1970s when a small group of us college guys in Ohio  decided to join the "Save the Manatee" campaign. We selfishly used it as a rally to travel to a variety of warmer Florida spots over several years when taking college trips over our breaks. Although we were economically minded and basically camped out on both east and west coasts as well as the Florida Keys … we did spend a little time on the St. Johns River helping with preserves and signage to warn boaters of the presence of these quiet, gentle and large mammals.
Here's a short video off the stern of Encore; this one particularly liked our Zodiac!