Posted By RichC on June 23, 2016
Follow up to previous post:
Here's the beef (long-ish winded) — I have a bunch of Craftsman tools and have always appreciated their "fair" quality and knowing that Sears stood behind them (and "use to be" in every town). As times change, Sears is no longer what it once was and the convenience factor as pretty much given way to Amazon and ordering things online. That aside, I broke an metric Allen socket rather than order a full new set of "junkier" sockets, wanted to see if Sears would replace only the one socket.
The once convenient Sears Hardware is no long around in my area, so decided to zip to the Sears store at the mall one evening in order to replace … and not to waste a trip, took two other broken tools: a 1/2" drive ratchet and 17mm "Professional Grade" open/box end polished wrench (which became the problem tool). I was sad to see the Sears store so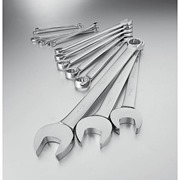 dead, but it did make working with the tool guy easy. He looked at the tools, replaced a socket with a similar one (so much for the matching set) and took my 1/2" drive into the backroom to repair; I guess that is a normal fix?
This left me with a broken 17mm wrench that he didn't have a replacement for … said they didn't carry the professional "polished" grade like mine in the stores and to check online — no big deal … right?
So … over lunch I decided to use the "chat feature" on Sears.com. Five minutes into the chat I knew it was not going well. The first Craftsman number 800-832-7494  remain busy for the hours of the chat … I'm still not sure it works? The automated attendant on the second number 800-469-4663 routed me and then dropped the call when it transferred. Again I tried the number but remained persistent … "representative, Representative, REPRESENTATIVE" … until a person picked up. Of course it wasn't a person who could assist and she transferred over and over eventually to a 4th person who told me I needed to take this issue up with a store manager (all of this over a single wrench — and you wonder why Sears days are numbered???)
It gets better …
All this while, the chat person Alfie remained on the online chat (while I ate my lunch) and eventually handed me off to the supervisor "Daley" … a far less tolerant person (obviously tested by customers like me over time). In frustration to my returning persistence, I think she and I knew that we were not going to solve the "how to replace a broken Sears Craftsman wrench" via chat — her eventual answer to get me off the chat was to "call the number again after 2 hours" (ie. go away Rich!) … for my part it was "can you have someone contact me?" (ie. my time is important too — but it obviously is not!).


Alfie (15:49:03 GMT) : Good morning!
Pleasure to have you on this chat!
Alfie (15:49:08 GMT) : Can I have your name please?
Visitor (15:49:51 GMT) : Rich is my name. I have a "professional grade" wrench that I purchased at a Sear Hardware that has been closed. Was to the Sear Mall store and they can't replace that grade of tool. What should I do.
Alfie (15:50:24 GMT) : I am really sorry to hear that.

… blah, blah, blah for an hour …

Visitor (16:54:25 GMT) : Craftsman number still busy … over the last hour i've called ever few minutes.
Daley (16:54:55 GMT) : I request you to call the number after 2 hours.
Visitor (16:55:33 GMT) : 2 hours?
Daley (16:56:01 GMT) : Yes, please call after sometime.
Daley (16:56:57 GMT) : Are we all set?
Daley (16:57:54 GMT) : I have not received a response yet. Would you like to continue chatting with me?
Visitor (16:57:59 GMT) : not really … but if you say you can't help, can't have someone contact me or say I need to wait 2 hours to call again, then I guess we are ?
Daley (16:58:43 GMT) : Yes, please call after sometime to get the replacement.
Visitor (16:59:02 GMT) : Ok … you guys don't make this easy.
Daley (16:59:39 GMT) : Sorry that this we don't have any other option.
Daley (17:00:30 GMT) : It was a pleasure chatting with you. We welcome your feedback. 
Conclusion:  I just needed to replace a broken 17mm wrench. Instead Sears customer service took an hour to irritate a long … long time customer (my dad bought Craftsman tools, I own tons of them and I bought them for my son). There must be a better way to run a company who's reputation was one time great and who still claims a "Guaranteed Forever" claim on their tools.  Why else would customers pay a premium for Craftsman brand rather than running to Harbor Freight? (I'll probably give up and just go to Harbor Freight for their $8.99 set below just to replace my 17mm wrench. Why put a customer through this???)
Item # 00945964000P  CRAFTSMAN PROFESSIONAL 13 PC. METRIC 12 PT. FULL POLISH COMBINATION WRENCH SET

Regular Price $99.00 – Sale Price $69.99

SPECIFICATIONS
Dimensions and Weight:   
Item Weight (lbs.)    3.55
Length (in.)    5.36 in.|5.73 in.|6.11 in.|6.52in.|7.23 in.|7.67 in.|8.06 in.|8.68 in.|9.08 in.|9.49 in.|10.07 in.|10.5 in.|11 in.
Metric Opening Size    9 mm
SAE Opening Size    Metric or Torx
Torx Opening Size    SAE or Metric
Product Overview:   
Quantity in Set    13
Number Of Points    12
Case Included    No
Wrench Sizing    Metric
Package Quantity    13
Color/Finish    Full polish finish
Set    Set
Ratcheting Wrench    No
Material    Alloy Steel
Length    Standard
Handle Type    Offset
Flex Head    No
Warranties & Coverage:   
General Warranty    Guaranteed forever
— VS —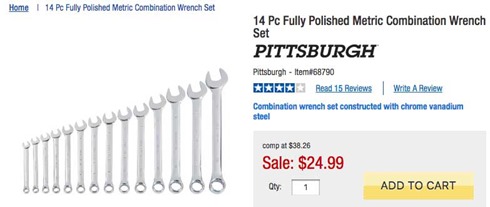 — OR —