Posted By RichC on August 9, 2016
There was a day, when all I wore for casual footwear were boat shoes … but Sperry Topsiders in particular (also athletic shoes of course ).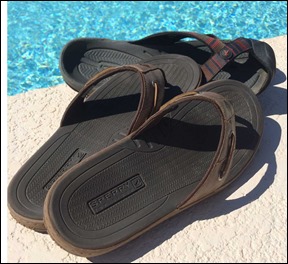 In recent years I've opted for simple slip on sandals around house, pool and at the dock or if you preferred flip-flops … or if you go WAY back – thongs (see below) — this  was a term my mother used that embarrassed her grandkids. I have an older well worn pair with terribly slick treads that I keep on the boat, but after sliding one too many times on the dock, decided to replace with a pair of Sperry Baitfish Flip-Flops (photo front). This much improved version/brand has a deck shoe tread that I am hoping will be closer to my really sure footed "boat only" SeaRacer Sneakers. These new Sperry flip-flops have quickly become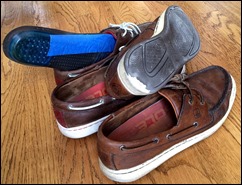 my preferred summer footwear "around the house" shoes and I hate to leave them aboard Encore. Maybe a second pair or a Christmas wish item … although my Keen Waimea H2 sandals with their special toe protection (photo rear) are still smartly designed, but clickity click (mp3), ugh!
For all around wear, I'm still going to slip on a pair of well broken in Sperry Topsider and updated insoles, but for everyday around the pool, patio and at the dock footwear, you can't beat the quality of Sperry branded flip-flops.
Note: Usage in U.S., particularly Southern California. (Prior to 1980's, perhaps later). Thong is exclusively footwear (sandal), not related to undergarments or bathing suits. The usage of thong as G-string (bathing suit or underwear) is post 1980's? — Wiktionary Talk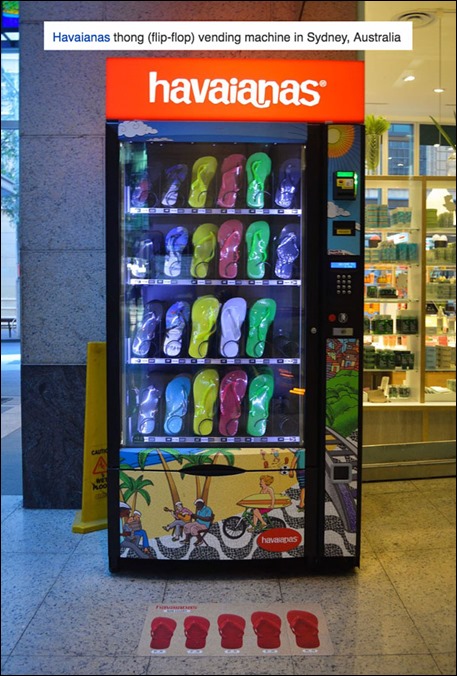 See Wikipedia entry for thongs (footwear) or flip-flops