Posted By RichC on August 2, 2016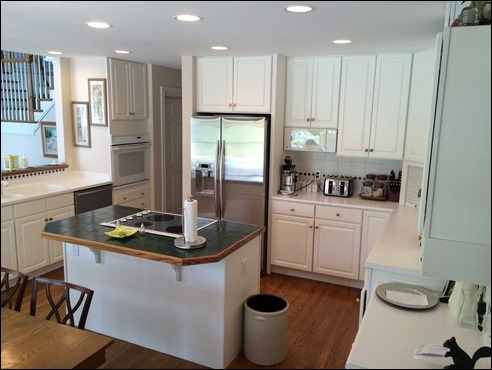 Now that we've been in our house for over 20 years and haven't really done much to update our kitchen and the builder grade cabinets and appliances. It is time to start the ball rolling and at least get a few ideas.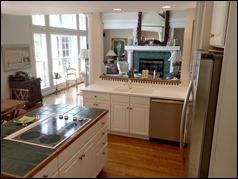 Brenda thinks our kitchen is too small by today's "big house" standards so as a compromise we're exploring ways to accomplish this without a major addition … we're close to agreeing on something (more on that after working with a designer).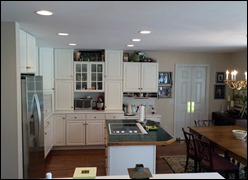 We've made a few minor upgrades over the years like replacing the sink with a Corian sink and counter combo … and replaced our dishwasher (very happy) and last year our refrigerator; we would like to keep those. As for cabinets … we both like "white" and will likely at least go light colored if not white again. I'm concerned over the grade of the cabinetry and have discussed options with my retired Florida sailing friend as he was in the cabinetry and trim business –  love bouncing my thoughts off him. Thanks Mark!
One of our biggest compromises at this point (instead of adding on) is to replace our cooktop island with a smaller work-surface section that stretches out towards the door and becomes a large cabinet height kitchen eating area and replaces the table. The outcome is that the kitchen becomes larger and if removing the bar height chairs would then double as a huge serving area or even preparation area. It would be perfect if setting up a buffet for eating in the dining room, great room or outdoors. I'm sold on the idea … not sure about Brenda.
Since I'm sending my photos and sketches out to a designer for input, I'm going to post a few photos/sketch on my blog and archive the zip file for posterity.