Posted By RichC on January 17, 2017
My mother-in-law passed away last week … or as my good friend Pastor Keith Thomas (groupbiblestudy.com) said, "graduated."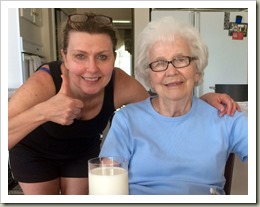 The word choice is very fitting for Mom Howard considering she has been a lifelong Christian and loved studying and memorizing the Bible. She has been looking forward to "graduating" from this temporary life on earth to an eternal one with her Lord and Savior … and loved ones like her lifelong husband, "Freddy" for a long time.
As a family, we are thankful to have had her "faith, warmth and positive spirit" for so many years. She was an huge influence on her four children and ten grandchildren and guided them with Christian values as they grew into independent thinkers and adults. Most in the family would say their "grandmother/mom was one of a kind," but she left her unique imprinted on each one. Her many positive character traits (and perhaps to outsiders, a few of her peculiar ways) have been passed down to those close to her. I recognize her personality and way of doing things in Brenda and her sisters (and now even in-laws grandchildren!) From the quirkily to the very admirable attributes, she left a lasting impact on us all. I am very blessed to have been loved so much by MomH (and that is definitely the correct word). During the last 10 or so years, we've had the privilege of returning a little of that love and caring for her (and DadH) as they grew older. I could not have asked for a more loving mother and father-in-law and am thankful to have had them both in my life for so many years. We are happy for her that she is home.
Frances Ann Louise Howard, 87, of 2623 Black Hoof Trail, Milford, Ohio, passed away in her home at 12:35 PM on Tuesday, January 10, 2017. Frances was born to Hildur (Johansen) and Fritz Emmanual Holmstrom on April 18, 1929 in Jamestown, NY and married her late husband Dr. Frederick A. Howard on July 23, 1949. They were life-long residents of Jamestown, New York.
 
Frances is survived by her three daughters, Christine (Jerry) Skinner of Milford, OH, Brenda (Rich) Corbett of Liberty Township, OH, Ann (Gary) Gerber of Alpharetta, GA and daughter-in-law Lynda Howard of Bemus Point, NY. She was preceded in death by her son Dr. Mark A. (Lynda) Howard, brother Dr. Fritz Holmstrom and sister Viola Boy. She loved her 10 grandchildren and 5 great grandchildren: David (Rachel) Skinner parents of Nollie and Bruno, Benjamin (Emily) Skinner parents of Liev, Madison (Nathan) Kling, Dr. Justin (Katie) Howard parents of Madelyn and Evan, Dr. Aaron (Dr. Lauren) Howard, Jacquelyn (Ben) Wickerham, Dr. Katelyn (Dr. Drew) Oostra, Taylor Corbett, Jessica Gerber and Sarah Gerber.
 
Frances received degrees in teaching from Houghton College, Houghton, New York and Fredonia College of Education, Fredonia, New York. She taught school in Willoughby and Cleveland, Ohio while her husband finished dental school at Case Western Reserve. They returned to Jamestown where she helped her husband begin his dental practice and being "mom" to her four children. In the 1970s with her family grown, she returned to teaching elementary school in Ellington, Falconer School District until retirement in 1991. Fran was an active member at Bethel Baptist Church for over 50 years playing piano and directing the choir. She regularly hosted visiting missionary families in her home and rarely turned away a charity seeking financial support; it is a legacy imprinted on her children. As a mom and grandmother, she shared her Swedish heritage through her cooking when the family came home every Christmas. It is a treasured memory for all. In retirement Fran enjoyed winters with her "Freddie" in Delray Beach, Florida, where they welcomed visitors, family and friends alike. When spring arrived, both were anxious to return to New York and their much-loved farmhouse. Her faith, warmth and positive spirit will be missed by all who knew her.
 
The family will receive friends on Friday, January 20th from 7-8 PM at Lind Funeral Home in Jamestown, NY with a memorial service to follow at 8 PM. Graveside Committal will be on Saturday afternoon at 3:30 PM January 21st at Evergreen Cemetery in Portland, NY with Pastor Jim Reed officiating. Memorial contributions may be made to Bethel Baptist Church 200 Hunt Road, Jamestown, NY 14701 or Romanian Handicapped Ministries 5910 Price Rd, Milford, OH 45150 in Frances Howard's memory.
Below is an old Jamestown, NY article from November 12, 1960 … look at that cutie in the middle (my wife Brenda!).